Janet Flick, owner of Flickennel Dachshunds, has made a well-deserved international reputation for her lovely dachshunds, but is now (summer of 2019) expanding her horizons to include Colorado Mountain Dogs, a newly-recognized breed of protective guardian dogs. According to the website of the Colorado Mountain Dog Association:

"The mission of the Colorado Mountain Dog Association® is to promote the Colorado Mountain Dog as a devoted and reliable guardian of livestock, as well as a faithful and loving family dog, perfectly suited to family farms and ranches. The most unique trait of the CMD is its predictable acceptance of human visitors to the farm."
Since Flickennel is located in Colorado's Wet Mountains, the property is frequently visited by bears, cougars, bobcats, coyotes, rattlesnakes, and other predatory creatures, making it mandatory that we have at least two protective "big dogs" on the premises to keep those predators away, safeguarding our equines, goats, occasional pigs, and of course our dachshunds - as well as our family, staff and visitors. We are very conscious of the fact that large dogs can be quite intimidating, especially to children and people who aren't accustomed to them, so Janet began searching for a breed that would be protective but also friendly and gentle with people, especially strangers.
We've had a string of different big white Livestock Guardian Dogs (LGDs) over the years, usually with Great Pyrenees breeding, but also adding Anatolian Shepherd and Akbash to the mix. However, the dogs were rather stand-offish and could be less than friendly, so in casting about for a more benevolent breed, Janet came across the Colorado Mountain Dog, or CMD, which met all the standards she required. Subsequently, she found a breeder and obtained Sugar, her first CMD puppy. Dual-registered with the Colorado Mountain Dog Registry (CMDR) and the American Rare Breed Association (ARBA), Sugar has been bred and is now pregnant with her first litter, due July 3! The sire is also a local dog, and this will be his first litter as well, so we are all eager to see what they produce. Since big dogs usually produce big litters, we hope to have plenty for our own purposes and some to share with folks who need a big, friendly, protective dog.
Keep checking back here to see updates, and we will post pictures of the new family as soon as we can. The photo above shows Sugar in front, with Kahuna, our Pyrenees/Anatolian/Akbash (he's neutered); the photos below show her and her CMD mate, Leo - he's the much-bigger dog! He and his owner are also shown here.
Colorado Mountain Dogs - the new dogs on our block!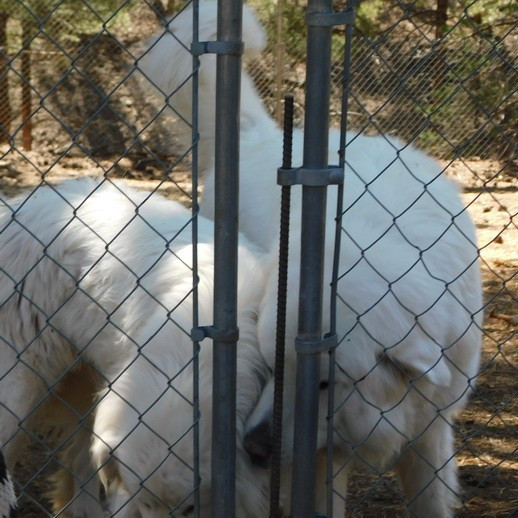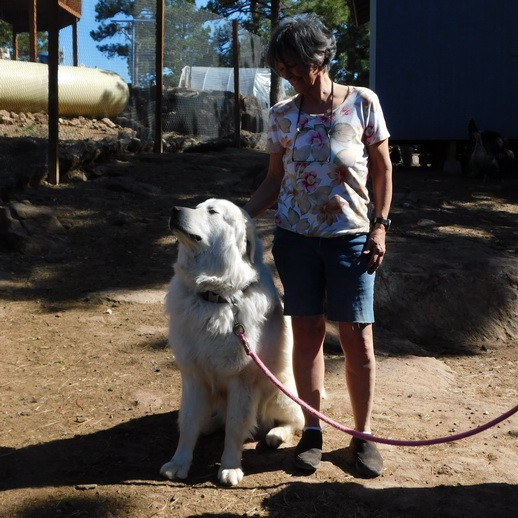 |--
_Yetozzi---|
| |--Iris of Red Gate Farm
|
Sugar -|
| |--Crack O Noon King Caspian
|_Delilah---| _Caspian
|--Aravis---|
|_Snow
Colorado Mountain Dogs are such a new breed, started in 2005 with the first breeding of Caspian & Snow and officially recognized on Dec. 4, 2018, that pedigrees are very important to the few folks breeding them, emphasizing the great positive aspects while minimizing any recessive negatives, or accidentally inbreeding. We're still working on getting the pedigrees for Sugar and Leo, but here is what I've found so far: