NEW Litters to Whet Your Appetite!








With this list to work from, if you're looking for a puppy with a particular gender, coat, color and pattern, email (flickennel@hotmail.com) or call and ask to place a deposit on one from a certain litter to hold it, even before it's born. If that particular type of pup does not appear in that litter, your deposit can be transferred to a different pup, or held for a future pup in a different litter.

We do not refund deposits!





Dachshunds come in more combinations of size, coat, color, and pattern than any other breed of dog

.
Their

sizes

are: miniature (up to 11 lbs. at 1 year old or older), and standard (over 11 lbs - the breed standard says 16-32 lbs, leaving the unofficial "tweenie" range between 11 and 16 as "small standard"). For the show ring, there are only two official sizes: mini - 11 lbs and under, and standard - 16 lbs and up. (

We

believe, there is no "bad" size for a dachshund - they're the greatest dogs in the world!)


Coats

are: smooth -

SM

, longhair -

LH

, and wirehair -

WH

.


Colors

include: red, cream, wheaten; solid black, black & tan, solid blue, blue & tan; solid chocolate, chocolate & tan, isabella (fawn) & tan, solid isabella; wild boar. The 'tan' points may also appear as 'cream' on some dogs. The "dilute" colors are the creams & wheaten, blue, and isabella (fawn).


Patterns

are: brindle, dapple, double-dapple, piebald, wildboar and sable, or in combinations such as brindle/ dapple, brindle/piebald, brindle/sable, brindle/dapple/piebald, dapple/piebald, sable/piebald, etc. (AKC only

recognizes

the combination of brindle/piebald, and now they are "excusing" piebalds from their shows!)
Brindle is a tiger-striping of black on red, or base-color on the tan points in any of the other colors (black, chocolate, blue, isabella, etc.) - the tan almost completely disappears on these when the dog is brindle.
Dapple can appear as lighter or darker spots on the base color of any colored dog. It is also referred to as "merle" in other breeds, and can be swirls, patches, distinct dots, or large areas of "different" coloring as in a reverse-dapple. No two dappled dogs are identical - like snowflakes - but the ONLY time you will normally see a blue-eyed dachshund is one that is dappled, because the dapple gene affected one eye or both, and it may show as either partially or entirely
blue
. It does not harm the eye any more than a blue-eyed human is harmed by their eyes' color.
Double-dapple occurs when both parents are dappled, and the puppy receives two pattern genes for dapple. It can cause partially or completely deaf and/or blind dogs, but they may also be just fine. We had a double-dapple sire (Casper) who was perfect and produced perfect puppies! (He was also brindle and piebald - he had it all!)
Piebald is any base-color plus white, producing the appearance of a pinto or paint horse, and the white can cover nearly all of the dog, half & half, or just a small area. A completely white adult dachshund is EXTREMELY RARE; most white babies turn some shade of cream as they grow up.
Sable is only found in red dogs, because it involves having both red and black on each hair-shaft. It won't show on a black dog, and black is NEVER found on chocolate, isabella, or blue. Wild boar is completely different from the other colors - it involves having three or more colors randomly placed on each hair-shaft, in distinct zones, producing an all-over grizzled coloration. Read the Breed Standard for more information.

We at Flickennel reserve the right to withhold the sale of any puppy without explanation. If we feel for whatever reason that a puppy is not a good candidate for adoption, we will not sell that puppy.​​

---
DUE TO THE NATURE OF ITS CONTENT - NEW LITTERS OF PUPPIES -
THIS PAGE IS UNDER

CONSTANT

RECONSTRUCTION!!
IF YOU DON'T SEE PHOTOS WHERE THEY SHOULD BE - JUST WAIT - THEY'RE COMING!
DEPOSIT/PRE-PAYMENT OPTION
If a litter page has not been activated yet, you may still put a deposit on a pup to reserve it for yourself, or to enable first-choice from an as-yet unborn litter. Deposits are easy to do. A deposit consists of $350,

plus

the PayPal convenience fee of $14. Go to PayPal,

even if you do not have a PayPal account

, select Send Money, and send the appropriate amount to flickennel@hotmail.com,

along with a note to say what the pre-payment is for

- either a certain pup from a certain litter, or first-choice from a particular litter, or a particular color, coat, pattern or gender (e.g. "a future blue & tan reverse-dapple smooth male"). The process is easy and should take less than five minutes to complete. PayPal will email to inform us of your payment, but please also

call Janet

(if during the day) to let her know, in case we aren't at our computers when you do this. We check email first thing in the morning and at various times during the day and evening, but we like to know so we don't accidentally sell the same puppy twice!
WE WORK ON BUILDING THE LITTER PAGES AFTER THE PUPS ARE BORN

AND

AS WE HAVE TIME TO GET PICTURES TAKEN - A LONG AND LABOR-INTENSIVE PROCESS, SETTING UP FOR THE PHOTO SHOOT, CORRALLING WIGGLY LITTLE TARGETS, MAKING SURE THE PICTURES ARE CLEAR ENOUGH TO USE, PROPERLY EDITED, SENT TO BECKY IN NEW YORK, THEN UPLOADED TO THE WEBSITE, THEIR PAGES BUILT AND ACTIVATED.
S​O, YOUR PATIENCE IS GREATLY APPRECIATED, AND NO,

WE DO NOT TAKE PICTURES WEEKLY.

IT'S MORE LIKE EVERY 3-4 WEEKS, AS THEY JUST DON'T CHANGE THAT MUCH IN 1 OR 2 WEEKS' TIME.


​Prices below are in U.S. dollars, + $50 for AKC registration if you want full registration on your puppy.
FLICKENNEL - Colorado Dachshunds with ALTITUDE!!!

We frequently mention "the Cash Clan" and you need to know who Cash is - he's our King of the Kennel, the foundation sire of the Cash Clan of exciting and exquisitely beautiful dogs. We keep the very best of the best to constantly improve our breeding stock, and the cream of our crop usually has one or more ties back to Cash. We've bred him and his offspring to various other great bloodlines to pull in terrific colors and patterns, as well as different coat types - the only one we haven't tried yet is wirehair! So here's why we get all starry-eyed when we mention CASH...
Cash is a black & tan reverse-dapple longhair with the most magnificent "show coat" all year round. He's not fat - he's furry! His pups usually have the same classy classic conformation he has, and the dapples usually have blue or partially-blue eyes, as he does.
Because of the blue in his irises, Cash always seems to be looking over your right shoulder, even when looking straight at you.
OUR OFFICIAL PROTOCOL FOR HANDLING OUR PUPPIES
Our daily visiting hours are

from 2:00 to 4:00 p.m.,

BY APPOINTMENT ONLY.



We handle all of our puppies several times a day in the course of caring for them and their mothers. Puppies stay in the nursery with their mothers until they are six weeks old, then they are weaned, that is, separated from their mother. The puppies' diet changes from her milk and gruel - a transitional supplemental mixture of ground
Purina
Puppy Chow plus liquid milk replacer introduced at 4 weeks - to dry Puppy Chow and drinking water. At 6 weeks, they are moved out of the nursery to our kitchen for increased socialization and familiarization with home life that is crucial to their development, and receive their first vaccination and worming, followed by their second at 8-9 weeks. If they are still with us long enough, they receive the mandatory third vaccination and worming 2-3 weeks later.



WE DO NOT ALLOW VISITORS TO ENTER THE NURSERY OR KENNEL AREA, OR TO HANDLE ANY OF THE UNVACCINATED PUPS.

This is for the health and safety of our dogs, particularly the baby puppies, and so they don't bring unknown germs back to the nursery with them to contaminate other litters. If you truly love your new puppy and want only the best for it, PLEASE don't ask to visit before it is six weeks old! We have a separate Meet & Greet Room where you will visit your puppy or make your selection from several pups that we will bring to you. Don't worry - we are taking excellent care of the babies, but even the State Inspector doesn't enter our nursery when inspecting the kennel for fear of importing something from outside that could wipe out all the babies. It's not just our rule - that's the State's rule! Your own pet(s) at home may not be sick, but you can unknowingly pick up various deadly disease pathogens from other animals, pet stores, or even on the grass in town and bring them in on your hands, shoes or clothing. We respect your desire to see and handle the puppies, but our responsibility is first and foremost to do everything in our power to nurture and protect them, so you get the healthiest puppy possible.
NEWS FLASH!!!


WE WILL NO LONGER SHIP COMPANION PET-ANIMAL PUPPIES TO BUYERS.

ONLY PUPPIES AND ADULTS THAT WILL BE USED FOR BREEDING PURPOSES WILL BE SHIPPED, AS PER USDA REGULATIONS

.

NOTICE:
THE ACT OF MAKING A PAYMENT ON ANY OF OUR DOGS CONSTITUTES AGREEMENT WITH ALL THE TERMS OF OUR CONTRACT. If you change your mind after putting a payment on a dog, your payment will be transferred to another available dog of your choice. We do not give any refunds.
ONLY ONE DISCOUNT PER PUPPY, INCLUDING ANY SALE PRICES AND DISCOUNTED SCRATCH & DENT.

NEW BABIES!!!

* * * * *

MORE JULY LITTERS TO BE ANNOUNCED SHORTLY! PLEASE STAY TUNED!

"The Look" of Cash

ROBERT & KATHY W. HAVE A DEPOSIT ON TWO SMOOTH FEMALE PIEBALD PUPS, SO THEY HAVE 1st PICK OF SMOOTH PIEBALD GIRLS IN UPCOMING LITTERS - one is Anna's 1F; they're waiting on another!

MAREN W. HAS A DEPOSIT ON A SMOOTH RED MINIATURE FEMALE PUP, GIVING HER 1st PICK OF FUTURE PUPS IN THAT CATEGORY!

Shasta & Elmer -

BORN 7-13, READY 9-6

. Shasta is a TINY longhair English cream out of champion bloodlines, while Elmer is a smooth red son of Lacy (black & tan wirehair) and Butternutz (English cream longhair). Lacy's sire was solid-black Ringo, whose ancestry was heavy with champions, both smooth and wirehair, going back to THE TOP wire stud of all time who produced over 100 champion progeny! Her mother's line goes back to Randy, our cream & white piebald who gave us so many wonderful creams and piebalds.

This will be a NO AKC litter, so if you need a dog with papers, please look at some of our other puppies.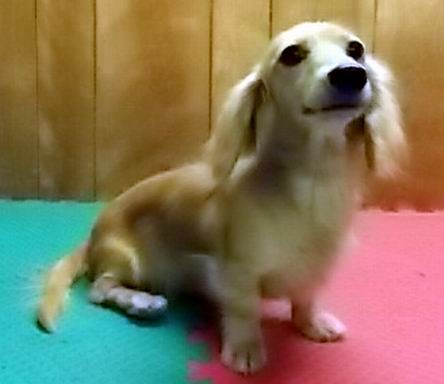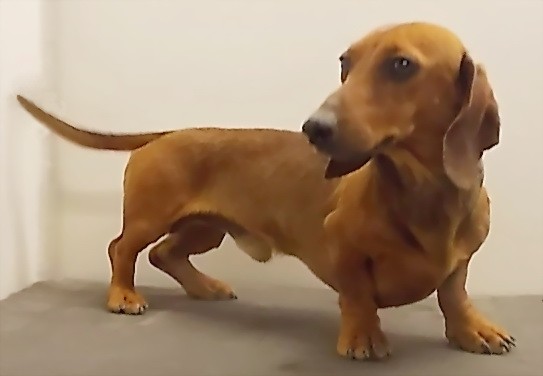 Tandy x Justin -

BORN 7-13, READY 9-7

. Tandy is a longhair solid chocolate - her full name is Flicks No Tan Do ML. Justin is our wirehaired red dapple extreme-white piebald that last December produced Blizzard - the nearly-pure-white wire boy. So far, Justin has produced red, wheaten, and blue piebald pups, and now we'll see if he has a chocolate gene lurking somewhere inside! Each of his parents had a chocolate or isabella parent, so we hope he got the gene from one of them - having two genes would have made him chocolate. Tandy got her color from chocolate parents, and is descended from two of our greatest bloodlines - Ringo (solid black SM, many champions), and Dutch (chocolate & tan LH). Ringo's paternal lineage was nearly all wirehair, but one smooth gene snuck down that side of the tree and joined his mother's smooth gene, so that's what he was. Tandy is homozygous for longhair, but smooth and wire are stronger - and Justin is a strong wirehair, even with just one gene - that's all he's produced! However, his SM dad had one LH parent, so it's remotely possible. This litter has black & chocolate, and since Justin also carries one dilute gene, they may be dilute carriers - Tandy has no dilute in her.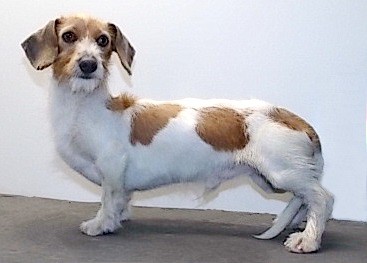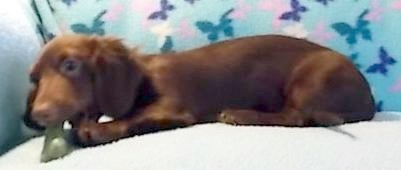 Truffle & Big Red -

BORN 7-18, READY 9-12.

Truffle is a longhair chocolate & cream from English lineage. Big Red is also from English ancestry and carries chocolate. Both are tweenies, so we're expecting tweenie pups in chocolate-based red, cream or chocolate & cream. If you want a bigger-than-mini but not quite full-size dachshund, here's your litter! With English cream in the mix, the dispositions of these pups should be more quiet, reserved, and regal than usual. SURPRISE!!! Big Red is a hidden dapple - 3 of the 4 pups are dapples! We have a slight dilemma regarding their colors - they're so full of dilute, and red comes in so many shades, especially with the dilute factor involved, we are having trouble telling the exact coloration of these babies! For now, we'll go with their numbers, and as they get older, we'll assign colors - the ones that change are definitely RED. They are ALL LONGHAIR.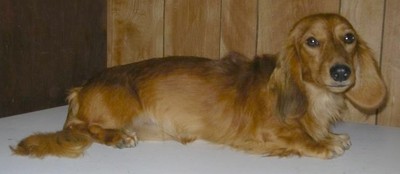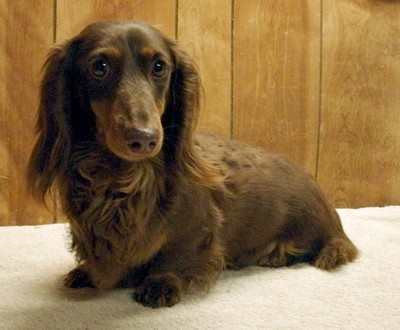 Checkers & Midnight -

BORN 7-22, READY 9-16.

Checkers is a longhair isabella & tan whitened-dapple Cash Clan member, daughter of Fawn, who's a grand-daughter of Cash. Midnight is a longhair black & tan - who is a Cash grandson, out of Blue Belle & Fudge, so he carries chocolate. Fudge's line had no dilute, and it takes the dilute from BOTH parents to make dilute pups, so Midnight is NOT the deep-blue we thought he was... However, his mother WAS blue, so he carries one gene for it and the ONE PUPPY is

either

black

or

blue & tan. Since there's only one puppy, it will receive all of Mom's loving devotion, as well as all of her milk, so he'll be a super-affectionate, probably gentle, probable TWEENIE, definite LONGHAIR. Stay tuned for his color, and he'll be priced accordingly - dilute is higher.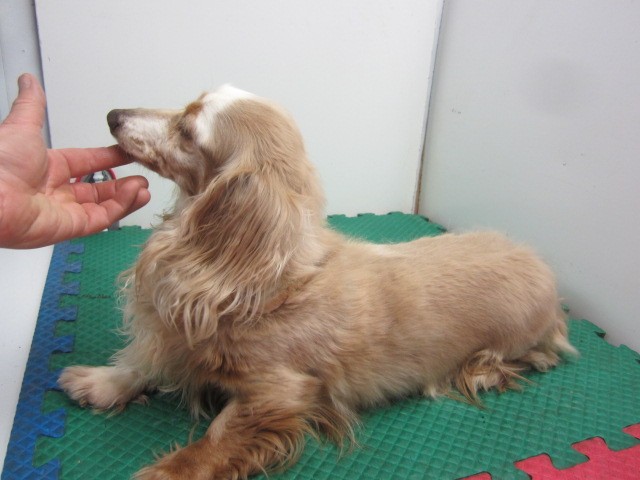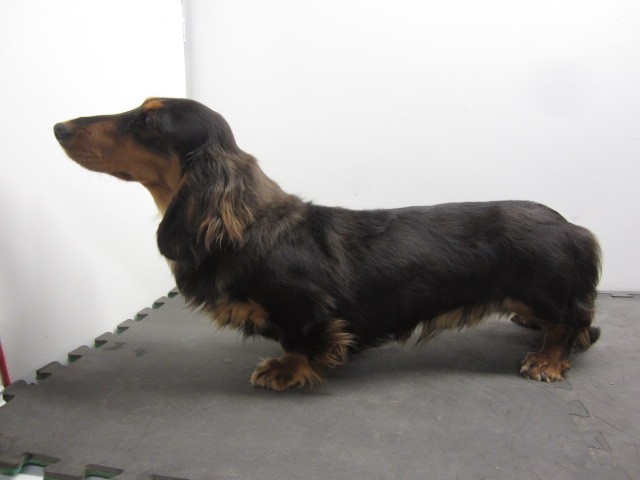 1F black & tan $700 + $50 for full AKC if desired.

2F chocolate & tan $700 + $50 for full AKC if desired.

3M solid chocolate $600 + $50 for full AKC if desired.

4M solid black $600 + $50 for full AKC if desired.

2M red

ON HOLD FOR HAROLD, FROM PUEBLO WEST, TO SEE IF HE'S SMOOTH OR LONGHAIR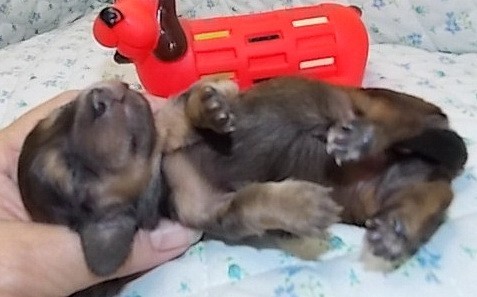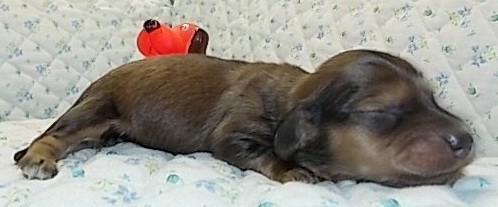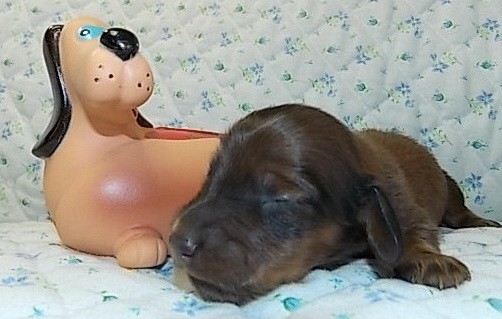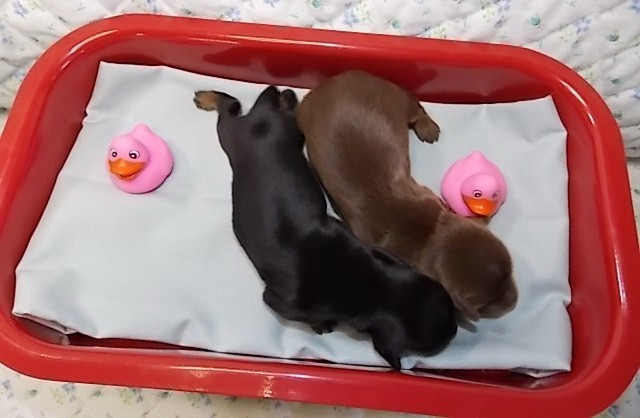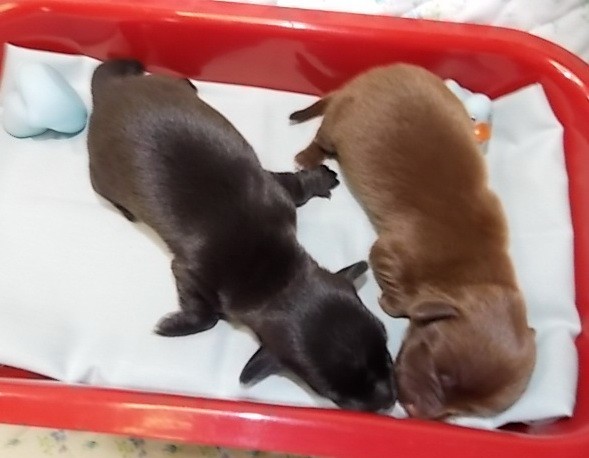 1F

possible

cream dapple LH - $1000 + $50 for full AKC registration if desired.

3F red LH carrying cream - $1000 + $50 for full AKC if desired.

2F

possible

chocolate & cream dapple LH - $1000 + $50 for full AKC if desired.

4M red dapple LH - $900 + $50 for full AKC if desired.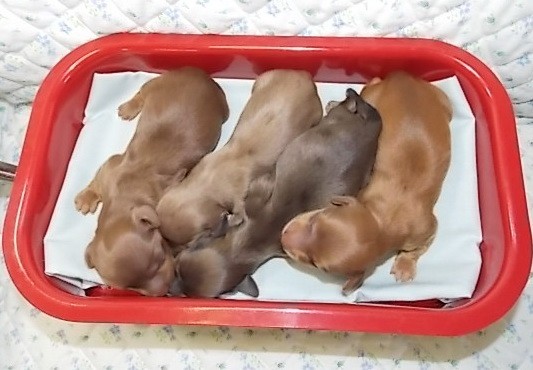 1F

1M black & tan dapple longhair - MIGHT be blue & tan dapple, and since he's an only child, WILL be a tweenie! Definite color is still in question - Checkers won't let him be handled yet. Suffice to say, HE'S GORGEOUS!!!

In 4-5 weeks we'll be able to tell if the dapples have blue eyes! English cream in the ancestry means the pups can color-shift to cream as well! ALL carry chocolate!