FLICKENNEL INTERNATIONAL


Flickennel - Dachshunds with

ALTITUDE!!!



Flickennel Dachshunds is proud to announce that we went international in 2011 and 2012! In addition to having our wonderful wienerdogs in nearly every state in the United States (including Alaska!), we have sent pups to Australia, Canada, Denmark, Africa, Germany; one customer took a retired stud to Ireland, and we're preparing to send a mob to England in 2017! There is no possible way to mark all the different places in the U.S. where our doxies live, but we are going to keep adding to our world map as we ship American-made purebred Flickennel Dachshunds everywhere they are wanted.



DUE TO CIRCUMSTANCES BEYOND OUR CONTROL

we will no longer be shipping companion-only puppies to out-of-area buyers. We have been informed that, according to USDA regulations, we can ONLY ship puppies and adult dogs that will be used as show-dogs, or in a breeding program! We regret the inconveniences this will cause our loyal clientele in other areas, but it's the law and we have to abide by it. Besides, Colorado is such a lovely place to visit when you come to pick up your new Flickennel puppy - and why waste the trip? Buy two or three at the same time, one for you and one for a friend or family member!
In September 2011 we sent two girls to Australia, to introduce and establish the first breeding

blue

and

mottled whitened-dapple

dachshunds in that country. Since then they have produced both blue

and

isabella pups, in smooth and longhair, and pointed solids, dapples, and piebalds - colors and patterns not previously seen in Australia. We're pretty proud of our girls! You may see them and their beautiful babies at Sedona Miniatures.

Cheyenne is a smooth blue & tan daughter of Blue Sky and Buck, born June 5, 2010. These are some pictures we took of her just before she flew away.

Cali is an impressively beautiful black & tan mottled one-gene piebald-carrying daughter of Apricot Brandy and Cash, born October 18, 2010. She is now producing gorgeous pups in Australia, where they fetch phenomenal prices, due to their rarity and being American imports. (By comparison, our prices are downright

dirt-cheap!

)

And as she looks today - a proud mama!

Checkers and Dutch had a litter of longhair chocolate & tan puppies on September 21, 2011, of which there was only one female, and she was bought by a family of missionaries and taken to Africa with them and their other dachshund! For their safety, we won't give their names, and only a VERY approximate location ("somewhere in Africa"), because of the current anti-American and anti-Christian furor. Here are pictures of her, and parts of the emails we received from her "parents."



9/3/12 I'm so sorry to be slow in sending you a picture of our puppy from your kennel that you named the 'African Queen'. Well, here she is at 10 months old. Our staff love her as we do too. Thanks for making us happy puppy parents again!

[No worries -

we

apologize for taking so long to get this page up and running!]

9/11/12 ... We love our little Heidi, and [my husband] is especially "googoo" about her! She does bring us a lot of comfort as we terribly miss our grown children and their families in the US.

I have attached a picture of her with one of our granddaughters, the day we brought her home from [Flickennel].

We also have a male Dachshund that is a black long-hair and about six years old. He LOVES Heidi. They are great companions for each other. The day-worker in the [other] picture ... loves to watch Heidi play as she chases butterflies and the shadows of butterflies, picks up small sticks and runs around with them in her mouth. He says, "Heidi makes me laugh." We have gray spider monkeys that sit on our security wall and she loves to bark and then run away from them. Samson will continue to bark, but Heidi is not a brave one. The monkeys never do anything but sit on the wall and eat whatever they have in their hands and watch the dogs bark at them. They are quite undisturbed by the whole thing. Since our home is walled, the monkeys are the most "wild" thing Heidi has ever had any contact with. She does not like the dark which can be quite funny as she runs inside as quickly as possible. She loves the night guards so I don't know why she doesn't like the dark.

Don't worry, folks - Heidi will probably outgrow her fear of the dark - all of our dogs do, that we know of.

Early September, 2012, saw one of our Blue Sky and Blue pups airborne, headed for Terrace, B.C. - Canada! Renamed Blue Squirrel, she went to be the best little furry friend of Danielle and Estin P.

The shocker of all shockers, though, was the request from one of our previous buyers, who now lives in Wienerland itself - Germany! Hilary E. is up to her eyeballs in dachshunds over there, and has seen plenty of others between here and there, but told us, "I refuse to buy a weenie from any other breeder. Yes, they are like [potato] chips. Once you buy one, you can't stop! I think I have a little problem...

"My first purchase from Flickennel was amazing and I want to add another amazing addition to my 'family,' from Flickennel in August. ... Is shipping possible to Germany? I really hope so because Flickennel dogs are just simply amazing, and the people at Flickennel are simply amazing too! I'm glad I made my first purchase, my mom's second, from Flickennel. It was probably one of the best decisions of my life! ... I never got to meet you, but my mom did! And I remember her telling me, she had never seen so many wienie dogs in her life!"

Well, Konstanz flew off to be with Hilary in Germany. Dachshunds are so aerodynamic, their wind-resistance is practically nil, so they get great mileage out of a bowl of dog-food - or a cheeseburger!

This is his BABY picture, taken June 17th, when he was 12 days old and almost solid white - just a touch of peach on his ears and a couple other little spots. ...

... And as Konstanz looked on August 20th, at 11 weeks! As we say, red dachshunds (of any shade or pattern) tend to change as they get older, and here's the proof.

Here is Konstanz, as he looked when we sent him. He is a son of Apricot Brandy and Gizmo, born June 5, 2012, and is an American cream piebald smoothcoat. Hilary says she has shown his pictures to some of her German friends, who ask if he is a beagle! They've never seen a dachshund with his color or markings - the German breeders mostly stick with the "conventional" red and black & tan smoothies, or wild-boar wirehairs. We think that's rather boring, and make dachshunds in
glorious
colors and patterns!
We never thought we'd be raising Great Danes at Flickennel, but we now have some great Danish

dachshunds

- two there now, and two more preparing to fly away when they have met all their travel requirements. It seems the European breeders have been content to stop at just red and black and the occasional chocolate, some brindles and wildboar wirehairs - all the HO-HUM colors - but they typically don't raise dapples, piebalds, creams (except in England), isabellas or blues, or any of the WOW combinations we're producing here at Flickennel. So, Thorkild & Nicole B. are undertaking to supply some more-glamorous puppies to the eager dachshund-loving public in Denmark by breeding the ones they're getting from us! We thoroughly approve - the world needs lots more dachshunds!
In 2014 we sent MORE dachshunds to Australia - you may read about them in another posting, below!

In 2014 we sent a second shipment of magnificent dachshunds to our friends "Down Under," to add to their growing collection of dilute colors and our specialty patterns, never before seen in Australian-bred dachshunds. Located in southeastern Australia, Sedona Miniatures purchased Almond Joy, or A.J., a remarkable isabella & tan reverse-dapple longhair, a son of Candy & Rambo born 1-4-13. A.J. sired some pups for us before he left on his epic journey, of which we kept Caramel, who is also isabella & tan, but not dappled like his father.

A.J. was just starting to really grow into his full adult coat when he flew away, but you can see he's grown up to be

wienderful!



"Seat-mates" with A.J. on the flight to the other side of the world was Kiowa, his sister from the same litter, but oh, SO very different in her color and markings! As you might guess from the outstanding appearance of these two fine dogs, they are card-carrying members of our world-famous Cash Clan - their mother is a daughter of Cash and Apricot Brandy. Their father, Rambo, is a son of Smores and Blue, introducing whitened and patchwork dapples, as well as dilute isabella and blue coloring, into the color-palette in our Aussie gene-pool. Kiowa, who is a black & tan extreme-whitened mottled dapple, went to another breeder in northeastern Australia and has been making gorgeous puppies for them, too. The pups shown below had a piebald father - Kiowa is not a full pie, but carries the pie gene from her mother, as evidenced by her piebald pups.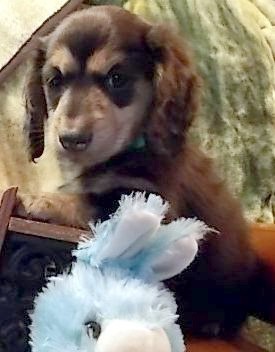 On 4-26-17 we received an email from the lady who adopted our Flicks Glossy Prince Polka Dachs, or simply "Prince," but she and her husband renamed him "Gunther." Here's what she had to say about him:

Hello Janet - I adopted Prince last July. He's been the best dog - so loving and sweet.

I wanted to let you know that I've moved to Ireland with Prince! He is now a beach dog living right on the Irish Sea. He did so well with the air travel and has settled into his new home wonderfully. He and my other dachshund, P'Nut, love to chase the gulls and have even braved the cold sea water to swim after them!

Thank you for raising such a lovely pup! I love him so! I can't tell you how many people stop me when I'm walking him to comment about his unique color and eyes. He's quite the celebrity!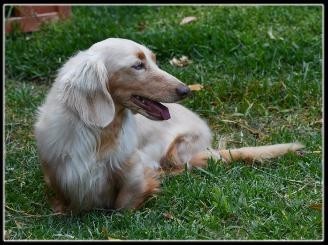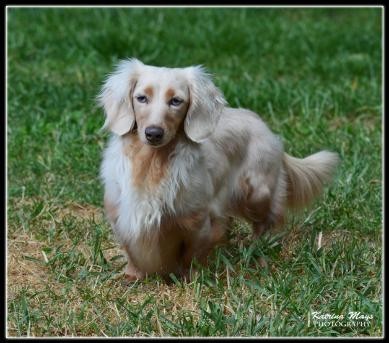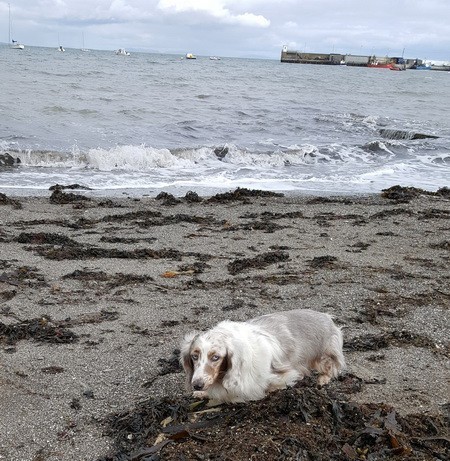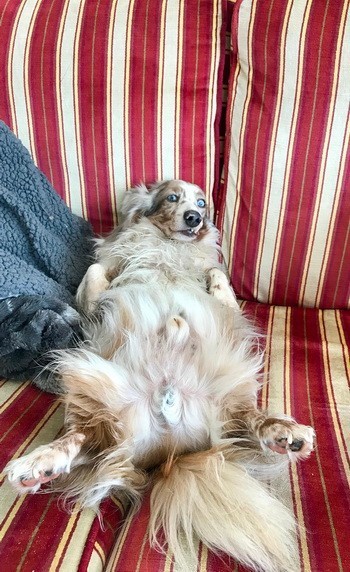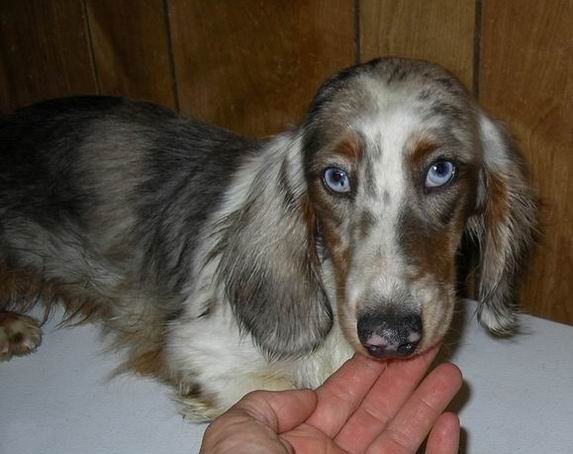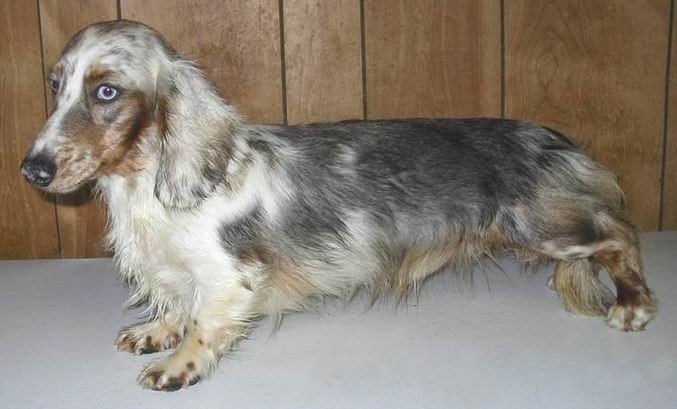 Looks to us like he's loving the "beach bum" life!
Thanks, Catherine!


2017

marks the year we invaded yet another country - this time, Jolly Olde England! Two breeders are in the process of importing a whole gaggle of our pups, starting with the eight shown below. They're deliriously happy to be introducing our spectacular dilute isabella and blue colors and incredible dapple patterns to the land that gave the world their famous golden English Cream longhairs. We finally worked out the details and got the first batch of pups ready, through various vaccinations and tests, for their trans-Atlantic flight, but the breeders are already salivating in anticipation of their second batch of fabulous Flick dilutes and dapples.

Here are the eight pups we sent in the first shipment, on October 4, 2017:

As you may have guessed, "Prince Gunther" is a Cash great-grandson, out of Princess & Dawg - she's a daughter of Pay Day, Cash's first-born son. Who says dilute-colored dachshunds RARELY have good coats?! Not if they're Cash Clan dogs from Flickennel!

From Tally & Boston, born 5/22/17:

Chocolate & tan tuxedo piebald, smooth female.

Isabella & tan extreme-white piebald, smooth female.

American cream piebald with ticking, smooth female.

*

From Candy & Rambo, born May 5, 2017:
(a Cash Clan litter)

Isabella & tan reverse-dapple, longhair male.

From Flossy & Lefty, born May 20, 2017:
(a Cash Clan litter)

Blue & tan salted dapple, longhair female.

From Lickety-Split & Justin, born June 5, 2017:

American cream extreme-white piebald, smooth female.

Blue & cream dapple extreme-white piebald, smooth female.

Isabella & tan piebald, smooth female.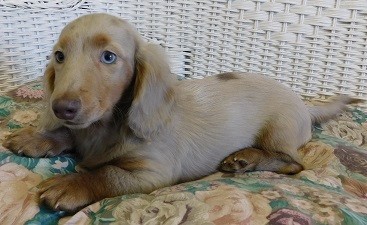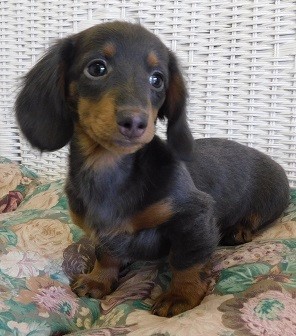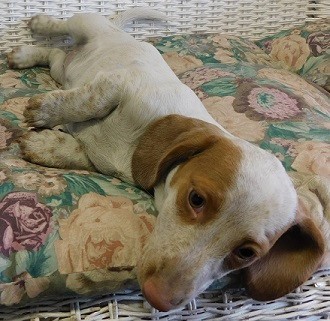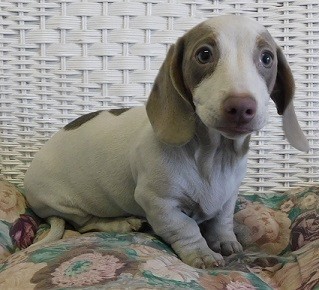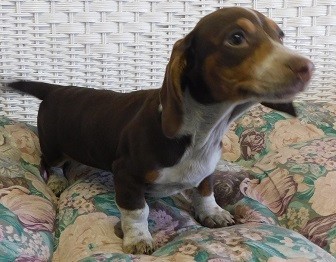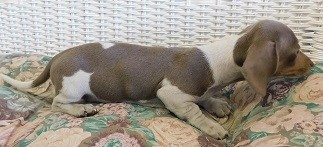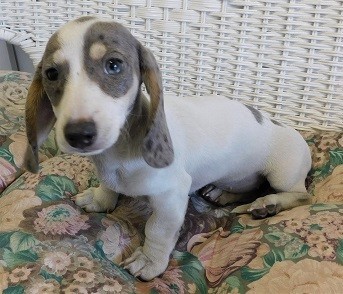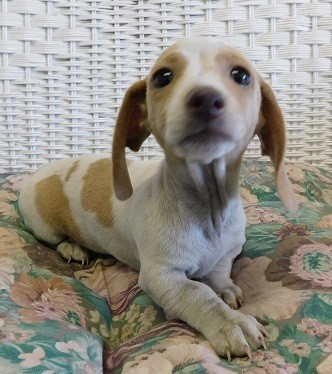 They're already choosing their NEXT "UK2" shipment of puppies, starting with Goldilocks & Cupid's little smooth cream girl - they say smooth creams are "ridiculously rare" and correspondingly outrageously expensive, over in England.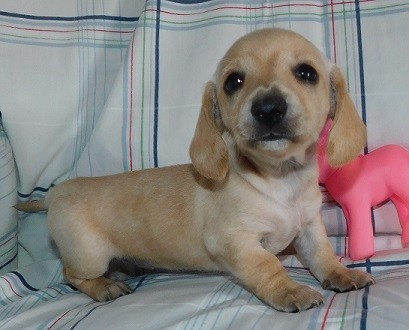 Goldilocks & Cupid, born July 14, 2017
American cream, smooth female

From Lowla & Caramel, born September 1, 2017: