NEW Litters to Whet Your Appetite!








With this list to work from, if you're looking for a puppy with a particular gender, coat, color and pattern, email (flickennel@hotmail.com) or call and ask to place a deposit on one from a certain litter to hold it, even before it's born. If that particular type of pup does not appear in that litter, your deposit can be transferred to a different pup, or held for a future pup in a different litter.

We do not refund deposits!





Dachshunds come in more combinations of size, coat, color, and pattern than any other breed of dog

.
Their

sizes

are: miniature (up to 11 lbs. at 1 year old or older), and standard (over 11 lbs - the breed standard says 16-32 lbs, leaving the unofficial "tweenie" range between 11 and 16 as "small standard"). For the show ring, there are only two official sizes: mini - 11 lbs and under, and standard - 16 lbs and up. (

We

believe, there is no "bad" size for a dachshund - they're the greatest dogs in the world!)


Coats

are: smooth -

SM

, longhair -

LH

, and wirehair -

WH

.


Colors

include: red, cream, wheaten; solid black, black & tan, solid blue, blue & tan; solid chocolate, chocolate & tan, isabella (fawn) & tan, solid isabella; wild boar. The 'tan' points may also appear as 'cream' on some dogs. The "dilute" colors are the creams & wheaten, blue, and isabella (fawn).


Patterns

are: brindle, dapple, double-dapple, piebald, wildboar and sable, or in combinations such as brindle/ dapple, brindle/piebald, brindle/sable, brindle/dapple/piebald, dapple/piebald, sable/piebald, etc. (AKC only

recognizes

the combination of brindle/piebald, and now they are "excusing" piebalds from their shows!)
Brindle is a tiger-striping of black on red, or base-color on the tan points in any of the other colors (black, chocolate, blue, isabella, etc.) - the tan almost completely disappears on these when the dog is brindle.
Dapple can appear as lighter or darker spots on the base color of any colored dog. It is also referred to as "merle" in other breeds, and can be swirls, patches, distinct dots, or large areas of "different" coloring as in a reverse-dapple. No two dappled dogs are identical - like snowflakes - but the ONLY time you will normally see a blue-eyed dachshund is one that is dappled, because the dapple gene affected one eye or both, and it may show as either partially or entirely
blue
. It does not harm the eye any more than a blue-eyed human is harmed by their eyes' color.
Double-dapple occurs when both parents are dappled, and the puppy receives two pattern genes for dapple. It can cause partially or completely deaf and/or blind dogs, but they may also be just fine. We had a double-dapple sire (Casper) who was perfect and produced perfect puppies! (He was also brindle and piebald - he had it all!)
Piebald is any base-color plus white, producing the appearance of a pinto or paint horse, and the white can cover nearly all of the dog, half & half, or just a small area. A completely white adult dachshund is EXTREMELY RARE; most white babies turn some shade of cream as they grow up.
Sable is only found in red dogs, because it involves having both red and black on each hair-shaft. It won't show on a black dog, and black is NEVER found on chocolate, isabella, or blue. Wild boar is completely different from the other colors - it involves having three or more colors randomly placed on each hair-shaft, in distinct zones, producing an all-over grizzled coloration. Read the Breed Standard for more information.

We at Flickennel reserve the right to withhold the sale of any puppy without explanation. If we feel for whatever reason that a puppy is not a good candidate for adoption, we will not sell that puppy.​​

---
DUE TO THE NATURE OF ITS CONTENT - NEW LITTERS OF PUPPIES -
THIS PAGE IS UNDER

CONSTANT

RECONSTRUCTION!!
IF YOU DON'T SEE PHOTOS WHERE THEY SHOULD BE - JUST WAIT - THEY'RE COMING!
DEPOSIT/PRE-PAYMENT OPTION
If a litter page has not been activated yet, you may still put a deposit on a pup to reserve it for yourself, or to enable first-choice from an as-yet unborn litter, or your place in line if we already have other deposits. Deposits are easy to do. A deposit consists of $350,

plus

the PayPal convenience fee of $14, totaling $364. Go to PayPal.com,

even if you do not have a PayPal account

, select Send Money, and send the appropriate amount to flickennel@hotmail.com,

along with a note to say what the pre-payment is for

- either a certain pup from a certain litter, or first-choice from a particular litter, or a particular color, coat, pattern or gender (e.g. "a future blue & tan reverse-dapple smooth male"). The process is easy and should take less than five minutes to complete. PayPal will email to inform us of your payment, but please also

call Janet

(if during the day) to let her know, in case we aren't at our computers when you do this. We check email first thing in the morning and at various times during the day and evening, but we like to know so we don't accidentally sell the same puppy twice!
WE WORK ON BUILDING THE LITTER PAGES AFTER THE PUPS ARE BORN

AND

AS WE HAVE TIME TO GET PICTURES TAKEN - A LONG AND LABOR-INTENSIVE PROCESS, SETTING UP FOR THE PHOTO SHOOT, CORRALLING WIGGLY LITTLE TARGETS, MAKING SURE THE PICTURES ARE CLEAR ENOUGH TO USE, PROPERLY EDITED, SENT TO BECKY IN NEW YORK, THEN UPLOADED TO THE WEBSITE, THEIR PAGES BUILT AND ACTIVATED.
S​O, YOUR PATIENCE IS GREATLY APPRECIATED, AND NO,

WE DO NOT TAKE PICTURES WEEKLY.

IT'S MORE LIKE EVERY 3-4 WEEKS, AS THEY JUST DON'T CHANGE THAT MUCH IN 1 OR 2 WEEKS' TIME.


​Prices below are in U.S. dollars, + $50 for AKC registration if you want full registration on your puppy.
FLICKENNEL - Colorado Dachshunds with ALTITUDE!!!

We frequently mention "the Cash Clan" and you need to know who Cash was - he's our King of the Kennel, the foundation sire of the Cash Clan of exciting and exquisitely beautiful dogs. We keep the very best of the best to constantly improve our breeding stock, and the cream of our crop usually has one or more ties back to Cash. We've bred him and his offspring to various other great bloodlines to pull in terrific colors and patterns, as well as different coat types - the only one we haven't tried yet is wirehair! So here's why we get all starry-eyed when we mention CASH... Sadly, he crossed the Rainbow Bridge on May 6, 2017, one day after his 12th birthday, but his legacy lives on!

Cash was a black & tan reverse-dapple longhair with the most magnificent "show coat" all year round. He was not fat - he was furry! His pups usually have the same classy classic conformation he had, and the dapples usually have blue or partially- blue eyes, as he did.
Because of the blue in his irises, Cash always seemed to be looking over your right shoulder, even when looking straight at you.
OUR OFFICIAL PROTOCOL FOR HANDLING OUR PUPPIES
Our daily visiting hours are

from 2:00 to 4:00 p.m.,

BY APPOINTMENT ONLY.



We handle all of our puppies several times a day in the course of caring for them and their mothers. Puppies stay in the nursery with their mothers until they are six weeks old, then they are weaned, that is, separated from their mother. The puppies' diet changes from her milk and gruel - a transitional supplemental mixture of ground
Purina
Puppy Chow plus liquid milk replacer introduced at 4 weeks - to dry Puppy Chow and drinking water. At 6 weeks, they are moved out of the nursery to our kitchen for increased socialization and familiarization with home life that is crucial to their development, and receive their first vaccination and worming, followed by their second at 8-9 weeks. If they are still with us long enough, they receive the mandatory third vaccination and worming 2-3 weeks later.



WE DO NOT ALLOW VISITORS TO ENTER THE NURSERY OR KENNEL AREA, OR TO HANDLE ANY OF THE UNVACCINATED PUPS.

This is for the health and safety of our dogs, particularly the baby puppies, and so they don't bring unknown germs back to the nursery with them to contaminate other litters. If you truly love your new puppy and want only the best for it, PLEASE don't ask to visit before it is six weeks old! We have a separate Meet & Greet Room where you will visit your puppy or make your selection from several pups that we will bring to you. Don't worry - we are taking excellent care of the babies, but even the State Inspector doesn't enter our nursery when inspecting the kennel for fear of importing something from outside that could wipe out all the babies. It's not just our rule - that's the State's rule! Your own pet(s) at home may not be sick, but you can unknowingly pick up various deadly disease pathogens from other animals, pet stores, or even on the grass in town and bring them in on your hands, shoes or clothing. We respect your desire to see and handle the puppies, but our responsibility is first and foremost to do everything in our power to nurture and protect them, so you get the healthiest puppy possible.
NEWS FLASH!!!


WE WILL NO LONGER SHIP COMPANION PET-ANIMAL PUPPIES TO BUYERS.

ONLY PUPPIES AND ADULTS THAT WILL BE USED FOR BREEDING PURPOSES WILL BE SHIPPED, AS PER USDA REGULATIONS

.


WE ARE ALSO NOT SHIPPING OUTSIDE THE UNITED STATES

.

NOTICE:
THE ACT OF MAKING A PAYMENT ON ANY OF OUR DOGS CONSTITUTES AGREEMENT WITH ALL THE TERMS OF OUR CONTRACT. If you change your mind after putting a payment on a dog, your payment will be transferred to another available dog of your choice. We do not give any refunds.
ONLY ONE DISCOUNT PER PUPPY, INCLUDING ANY SALE PRICES OR DISCOUNTED SCRATCH & DENT.

NEW BABIES!!!

* * * * *

"The Look" of Cash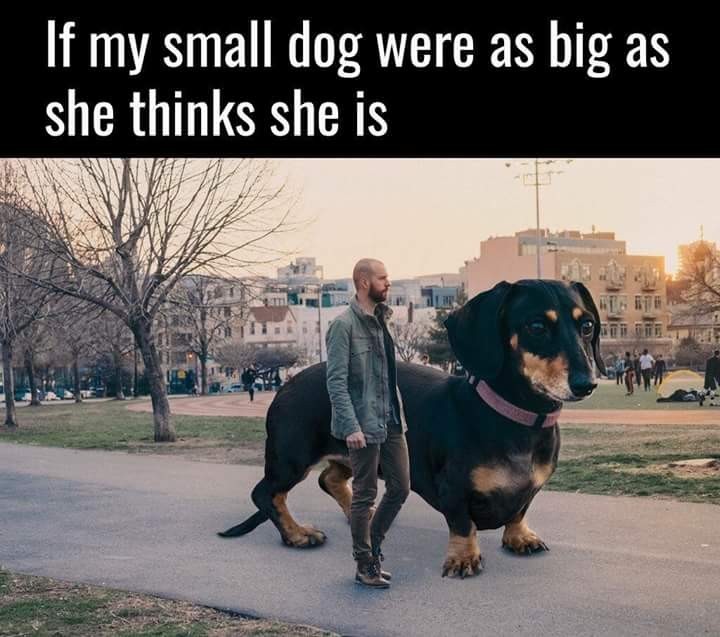 If my dachshund were as big as she thinks she is....


MORE UPCOMING LITTERS WILL BE POSTED SHORTLY.






WE HAVE DEPOSITS AWAITING FULFILLMENT in chronological order as WE RECEIVED them and they will be honored in the order received:



9/21/16 Lois B -

F English cream miniature LH

sired by Butternutz
3/11/17 Kim C - F isabella reverse-dapple LH,

CHOSE LOWLA'S 2F, still wants an isabella reverse-dapple F


5/22/17 Debbie C - taking 3 Tally girls, all 3 of Lickety-Split's girls,

Candy's 3M,

and Flossy's 1F TO ENGLAND!!!
7/8/17 Debbie C - wants 4 more isabella or isabella dapple pups, plus SM creams, from future litters
7/8/17 Yolanda F - 2 females from Crystal & Caramel's litter - WANTING isabella, and chocolate & cream. If both come from 1 litter, she will pick 1st & 3rd, with someone else getting 2nd pick.
7/25/17 Husky V - dapple F from Crystal & Caramel litter, pre-paid in full.
8/8/17 Lana R - deposit on a M isabella & tan reverse-dapple LH
8/17/17 Tom B -

1st pick of M English creams - TAKING ELVIRA'S 3M

.
9/18/17 Latisha W - PIF for a red or black & tan SM M from Anna's litter or from the next smooth litter.

IF I HAVE MISSED LISTING YOUR

DEPOSIT

, PLEASE EMAIL & REMIND ME!

Our new-and-improved-format website is in the works and all of the litters on this page will be posted to that (with the same flickennel.com name). This old-format site will be taken down and the new one activated at the same time. PayPal buttons will NOT be posted on this page, but

will

be on each of the new litter pages!



CHECK THE LITTER BUTTONS ABOVE FOR OLDER AVAILABLE PUPPIES!





Lowla & Caramel - BORN 9/1, READY 10/27.

Lowla is a gorgeous chocolate & cream dapple LH out of Lucely (English cream LH) & Ranger (whitened chocolate dapple LH). Caramel is a mini isabella & tan LH out of Izzy (isabella & tan LH) AJ (isabella & tan dapple LH) - their pups will all be chocolate or isabella, maybe dapple, probably with cream points, all LH. We have 3 females, 3 males, isabella and chocolate - 1 girl, 2 boys are dapples - NO REVERSE-DAPPLES, but they're beauties!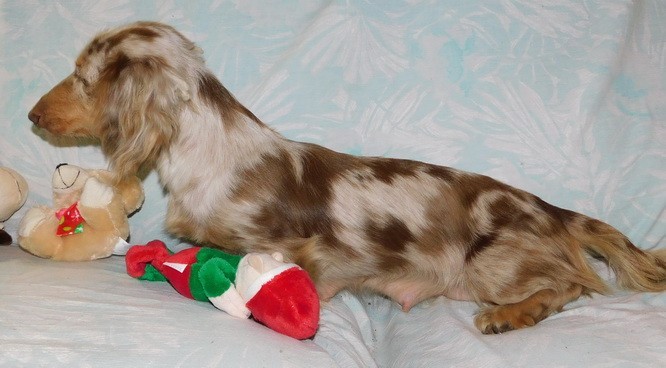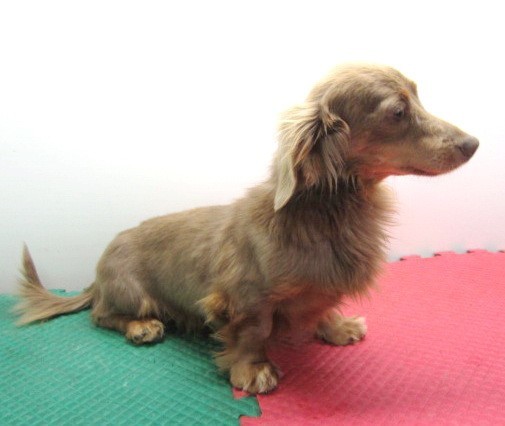 More new UPCOMING LITTERS will be posted.
Breedings made by August 27 and

born

by October 29 will be ready to go home by December 24!
We are not open for business on Christmas Day, so Christmas Eve Day is usually pretty busy with last-minute puppy pickups. If your puppy is ready before 12/24, we'd really prefer you pick it up on its ready date, especially because we cannot predict the weather and road conditions, not to mention having a last-minute traffic jam in our waiting-room. We cannot let pups go EARLY, by law. If yours won't be ready until the 26th or later, DO NOT ASK to take it home any earlier.

UPCOMING LITTERS

LOWLA CARAMEL

Anna & Elmer -

BORN 9/3, READY 10/29.

Out of Sam (LH black & tan brindle tuxedo piebald) and Annie Oakley (LH red dapple pie), Anna is a LH red brindle piebald carrying cream, black, and dilute - she had an all-blue pie litter with Justin last year. Elmer is a SM red out of Sergio (LH English cream) & Lacy (WH black & tan), possibly carrying his maternal grandfather Ringo's solid-color gene. We hope to see both SM and LH, in red, cream, black or blue, with bits of white from Anna's pie gene.

WE HAVE 3 GIRLS, 2 BOYS - 3 IN SHADES OF RED; 1F & 1M BLACK & TAN.




COATS TO BE DETERMINED IN 3-4 WEEKS.

Reds typically change either lighter or darker in their first few months, so we can't tell FINAL colors on the "reds" for sure yet. English creams usually start out dark, then lighten to cream.
WE HAVE A DEPOSIT ON A SMOOTH BLACK & TAN FEMALE, SO THIS ONE'S ON HOLD IN CASE SHE IS SMOOTH. LATISHA W. HAS PAID-IN-FULL ($900 + $50 AKC IF DESIRED) FOR A SMOOTH MALE FROM THIS LITTER -

IF NEITHER IS SMOOTH,

SHE WILL HAVE HER PICK OF THE NEXT LITTER WITH SMOOTH PUPS, AND THESE BOYS WILL BE AVAILABLE.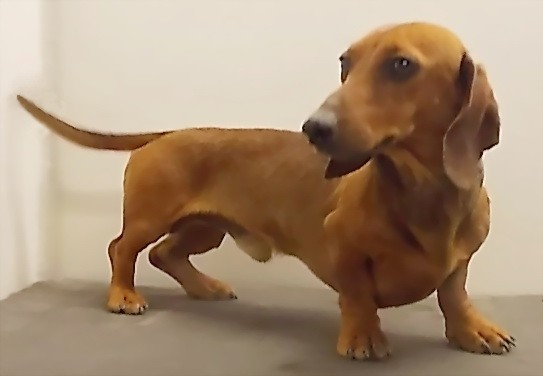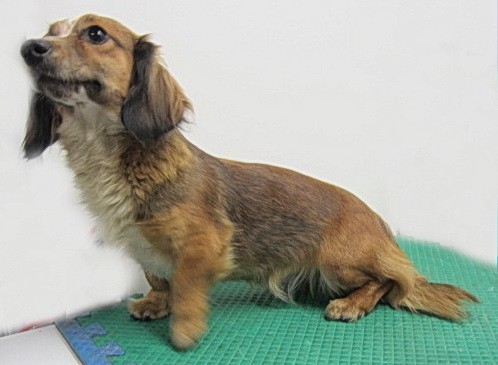 Blondee & Parkay - due about 9/8. Blondee, out of Reese's Pieces and Sophie, is an obvious clear English cream. Parkay, also clear English cream, is out of Reese's PIeces and Rose, and he also carries chocolate.

ANNA ELMER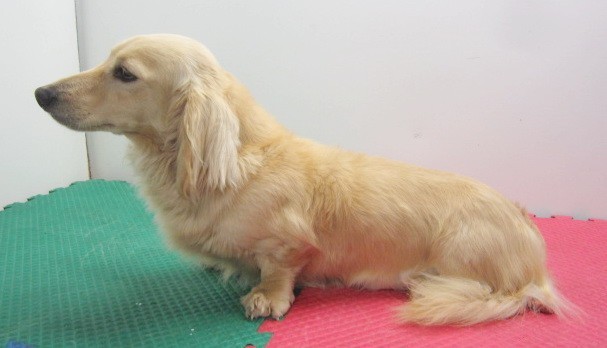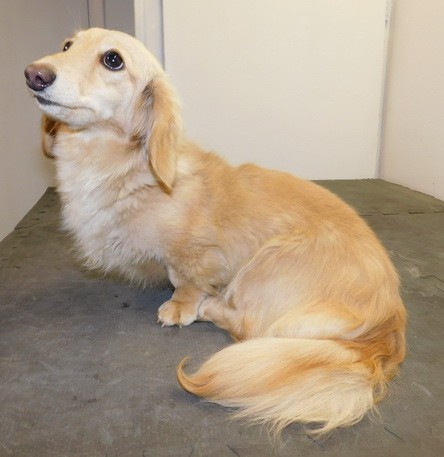 BLONDEE PARKAY

Crystal & Caramel - due about 9/12. Crystal is a blue & tan whitened salted-dapple LH out of Candy & Rambo, who have given us SO MANY AMAZING DAPPLE PUPS! Caramel is an isabella & tan LH out of Almond Joy (isabella & tan reverse-dapple LH) & Izzy (isabella & tan LH). Rambo gave Crystal his chocolate gene, so it may combine with Caramel's to give us all isabella pups, or her blue may dominate over the isabella for some or all of the all-dilute, all LH litter.

CRYSTAL DOES NOT APPEAR PREGNANT, AS OF 9/17/17; WE'LL GIVE HER A FEW MORE DAYS.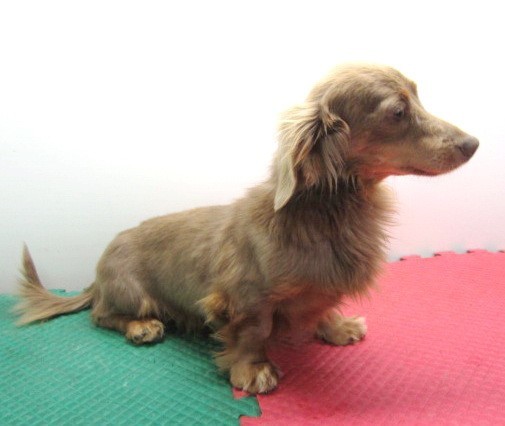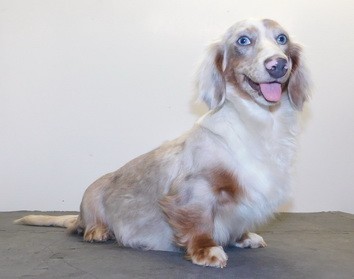 Tandy & Bullet - BORN 3/13, READY 11/8.

Tandy, out of Nutmeg (chocolate & tan LH) and Bosco (solid-chocolate SM, son of Ringo), is a super-playful and affectionate solid-chocolate LH who does NOT carry dilute. Bullet, out of Spot (one-spot chocolate & tan dapple LH) & Cash (black & tan reverse-dapple LH), is a blue & tan LH who has produced nothing but blue and isabella pups, except one litter that had black and chocolate. With dapple mates, he helps make spectacular dapple pups. Since Tandy is not carrying dilute OR dapple, all of these LH pups should be chocolate or black, with or without tan points. This is a CASH CLAN litter!

WE HAVE 1F BLACK & TAN, 1M BLACK & TAN - BOTH LONGHAIRS BECAUSE BOTH PARENTS ARE.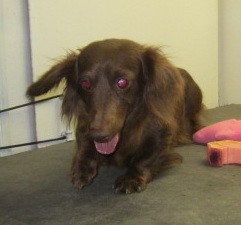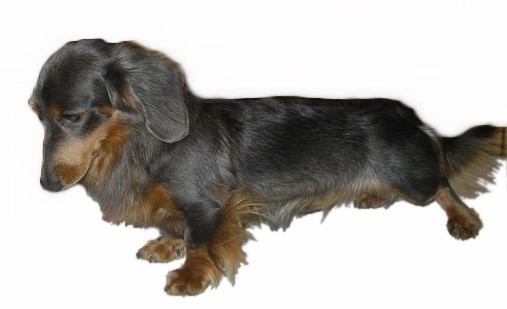 CRYSTAL CARAMEL

TANDY BULLET

Champagne & Justin - due about 9/17. Champagne is a lovely red faux-dilute LH out of Taffy (red dapple LH Cash daughter) and Blue (blue & tan LH), while Justin is a light red dapple extreme-white piebald WH (imported from Florida) out of a light-red ex-white pie SM sire and blue & tan dapple ex-white pie soft-WH mother. In addition to his WH, he carries LH and SM - he makes all three coat types, and we can see them all in this litter, since Champagne's LH is recessive to both WH and SM. Both dogs carry dilute, so we should also see dilute pups.

9/17/17 CHAMPAGNE DOES NOT APPEAR TO BE PREGNANT. WE'LL GIVE HER A FEW MORE DAYS, JUST IN CASE.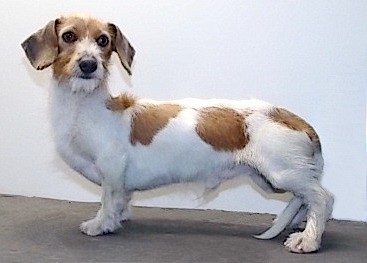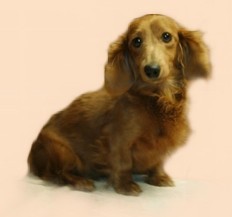 CHAMPAGNE JUSTIN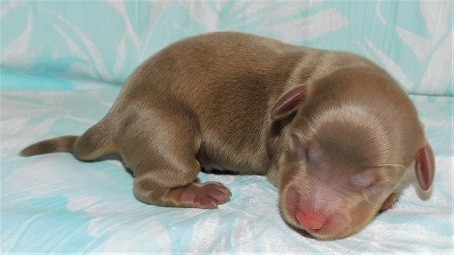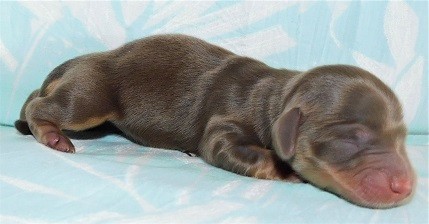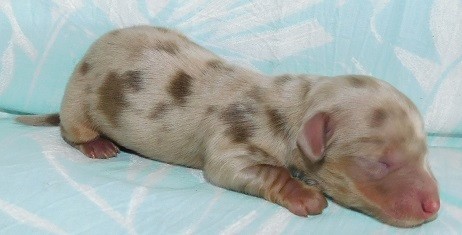 1F 2F 3F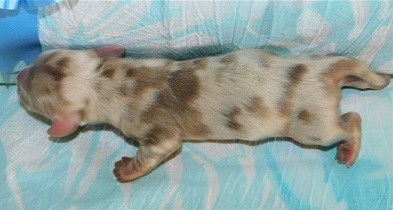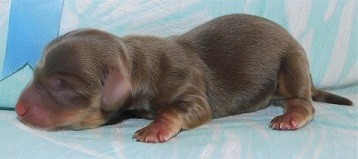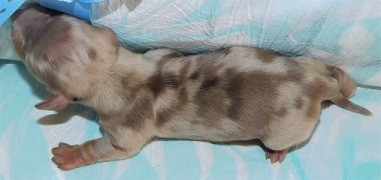 4M 5M 6M

"EMMA LOU TOO"
CHOSEN BY KIM C.

GOING TO ENGLAND FOR DEBBIE C.

CHOCOLATE!

CHOCOLATE!

ALSO GOING TO THE U.K., FOR LOUISE!

A DEPOSIT HOLDS THIS BOY FOR ROY C.

Going to live in Aurora, Colorado with Dianne.