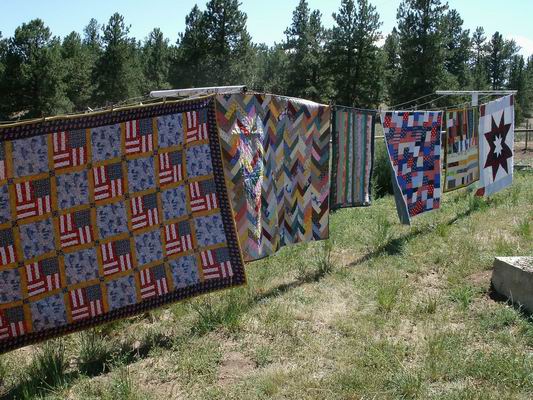 OVER the last four years or so, it has been our privilege and pleasure to be part of a growing movement in this country, honoring the military men and women who have been horribly injured - physically, mentally and emotionally - in the service of the nation we love, by handcrafting love-quilts for them. Janet is a member of the Pueblo West Quilters Guild and the Olde Schoolhouse Quilters (of Westcliffe), and these lovely ladies are banding together to make quilts in all sorts of patterns, using patriotic fabrics. "Grammie Tammie" Baggett, owner of the Wet Mountain Quilt Shop, has graciously agreed to quilt the assembled quilt-tops to their batting and backs on her big "free arm" machines, as have some of the Pueblo West ladies.

Around a few bends in the road from us is an establishment called Eagles Summit Ranch, which exists to offer healing and new meaning to their lives for these "wounded warriors." Every few weeks, they start sessions for a new group of injured veterans (as well as police officers and fire-fighters who have been maimed in the process of doing their job), and when that group graduates, we, and/or other members of our local quilting group, are pleased to attend the ceremony. It is our privilege to help hand each graduate a hand-made quilt in thanks for all they have done, all they have endured, and all they have sacrificed in trying to make the world a better place.

You would not believe the expressions on the faces of these dear people as they accept their quilts -- amazement, joy, tears..... at the thought that total strangers would invest so much time and effort to create objects of warmth and beauty for

them

. Many wrap their quilt around them, as if to feel the loving embrace of the person who stitched it. It can be the middle of summer and 95 degrees, but they'll be wrapped tightly in their quilt - and nobody

ever

forgets and leaves one behind! They take it home and put it right on their bed or a chair, no matter the season!

So, just to show you that there IS room in our hearts for something other than dachshunds, we made this page to share with you the beauty of this mission of ours, and to offer you the chance to participate, too, if you wish. You may sew a quilt or two (or lots!), or donate quilt fabrics (in reds, whites and blues, or patriotic themes, or quilt-backing material - we prefer to use 100% cotton fabrics, but will use whatever we receive!), batting, thread, or money to purchase these necessary items. Most quilts are being made in the 70"x80" range, give or take, and most of the ladies make a matching standard-sized pillow-case to go on the bed with it. Call Janet and ask about any specific, special needs at the moment, or you may use the PayPal "Donate" button below (please add a note of explanation to the transaction so she'll know it's not for a puppy!) Her number is

719-783-2955

, and if no one answers, please leave a message - your call will be returned! Finished items can be mailed to

Janet Flick, 9801 CR 271, Westcliffe, CO 81252

. On behalf of our many veterans, thank you so much! (New pics are at the bottom.)

WOUNDED WARRIOR QUILTS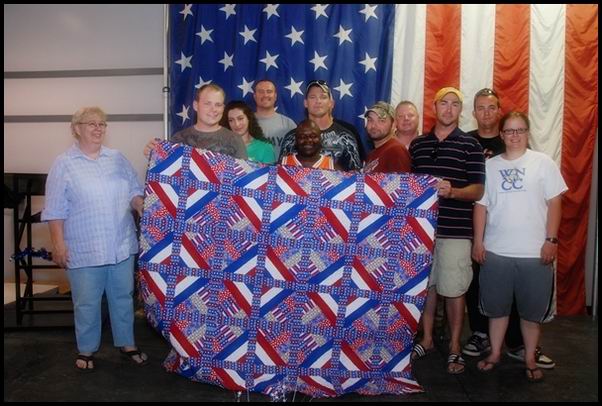 Janet, with the July 2012 graduates and the quilt she made for one of them.

These are some of the quilts that have been donated: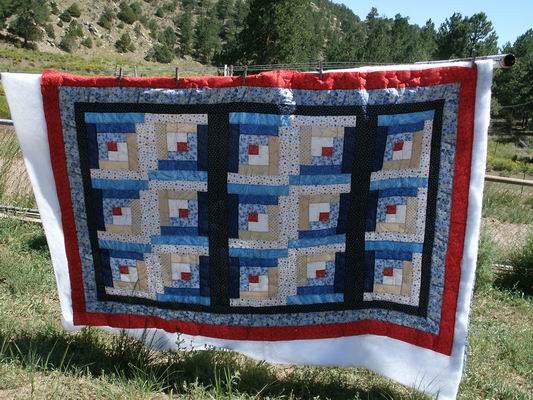 One of Janet's quilt tops, in a log cabin pattern.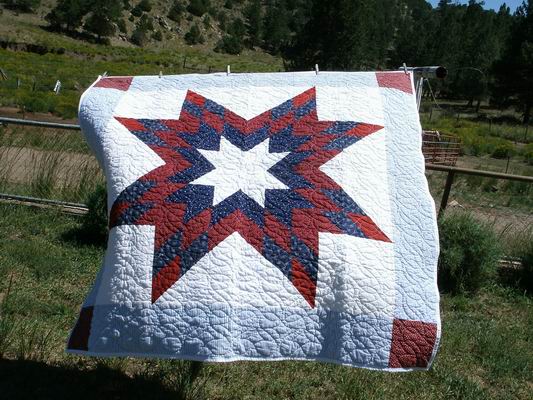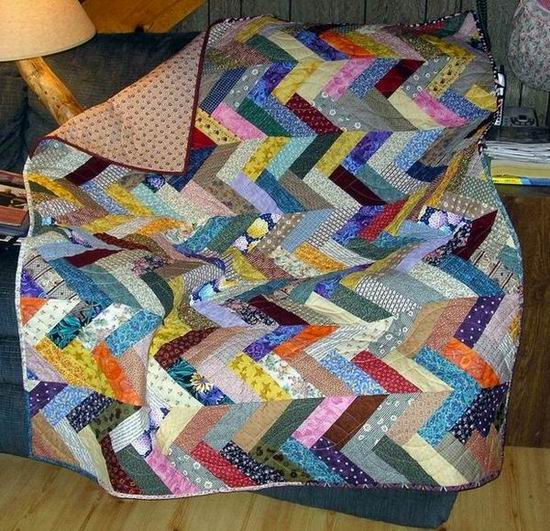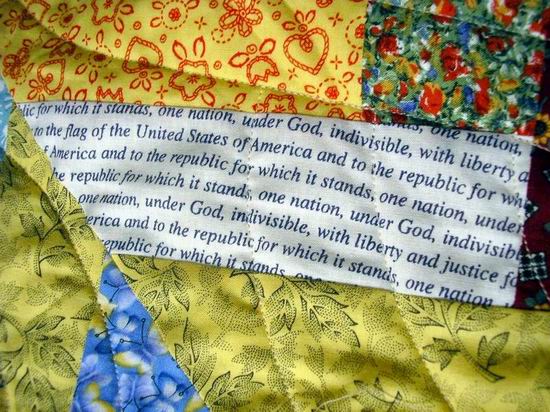 Lisa Mollenhauer made this beauty, which reminds us of Joseph's Coat of Many Colors!

Joseph's famous coat, however, did NOT contain pieces of fabric imprinted with the American Pledge of Allegiance!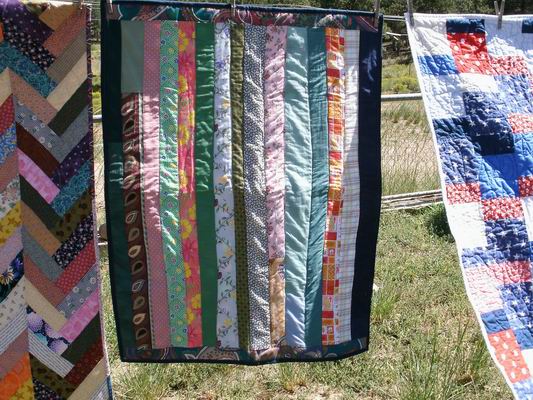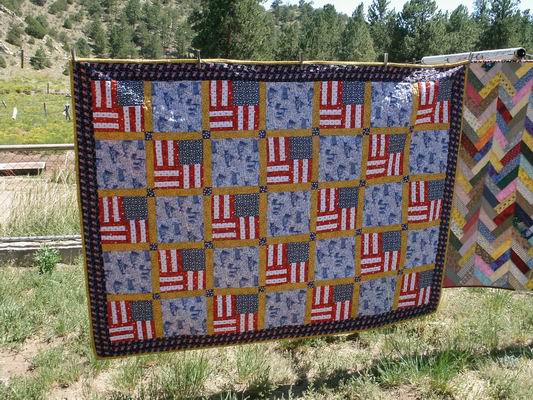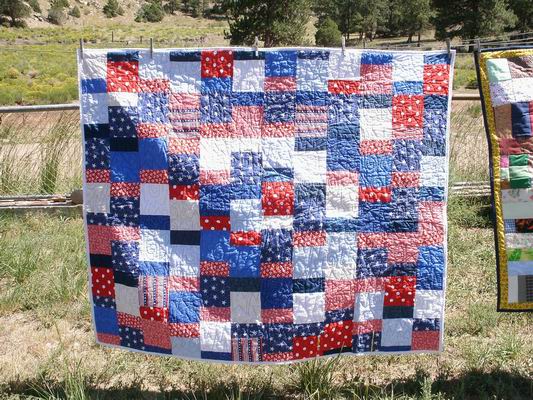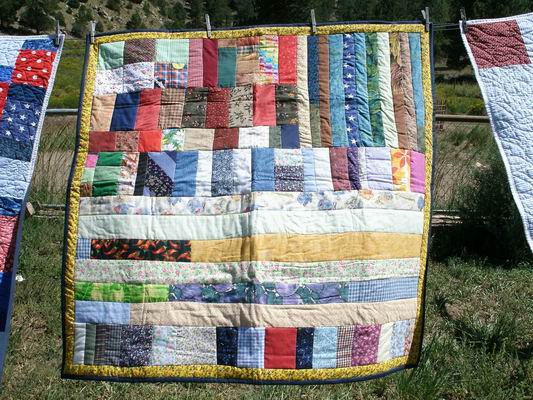 As you can see, they're not all made with just red, white and blue, or patriotic fabrics.

They ARE made with a lot of LOVE, which is what comes across so powerfully to the injured veterans who receive them.

If this page has inspired you to help us in this cause, please call or email Janet today!

To previous donors:

We have not gotten photos of anywhere

near

all of the quilts that have been donated. If you have pictures of a quilt or quilts that you've donated to Eagles Summit Ranch's Wounded Warriors, we would be thrilled to post them here, too - just email them to Janet at flickennel@hotmail.com in a 200-300kb size, and we'll gladly "hang them on the clothesline!" You put a LOT of effort into your quilt, but if you do NOT want your name shown with your photo(s), we will honor your request; otherwise, we would love to give credit where it is due. Likewise, if you recognize one of yours that's been posted here without your name, please let us know and we'll rectify the situation! ~ Thank you!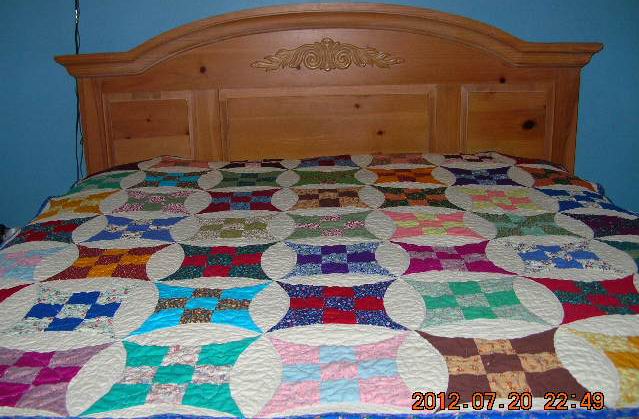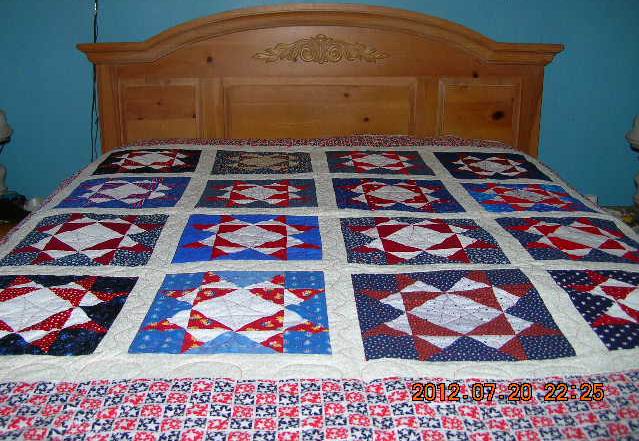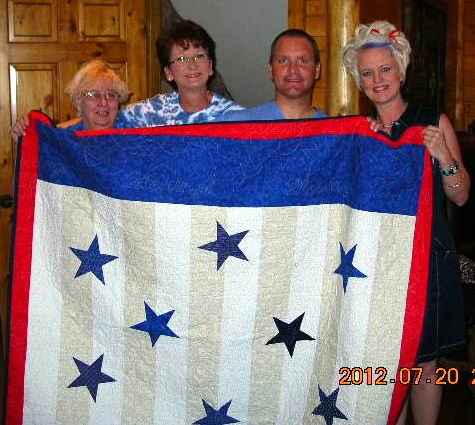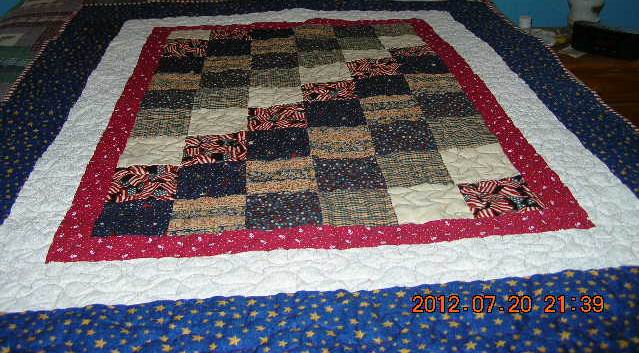 These four quilts were donated by members of the Pueblo West Quilters Guild and the Olde Schoolhouse Quilters, of Westcliffe, CO, during July 2012. Aren't they beautiful?!

Left to right: Janet Flick, Grammie Tammie Baggett, the lucky recipient of this magnificent quilt, and Reecy Porter, Tammie's cousin and partner at their quilt shop in Westcliffe, where they do much of the long-arm quilting of donated quilts. That's the fancy stitching that decorates and complements each piece, adding the finishing touch.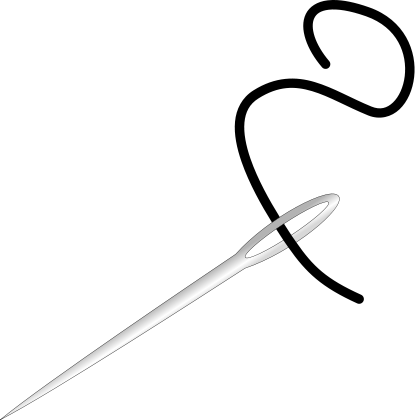 This group was photographed on 6-21-12. Can you tell they LOVE their quilts?!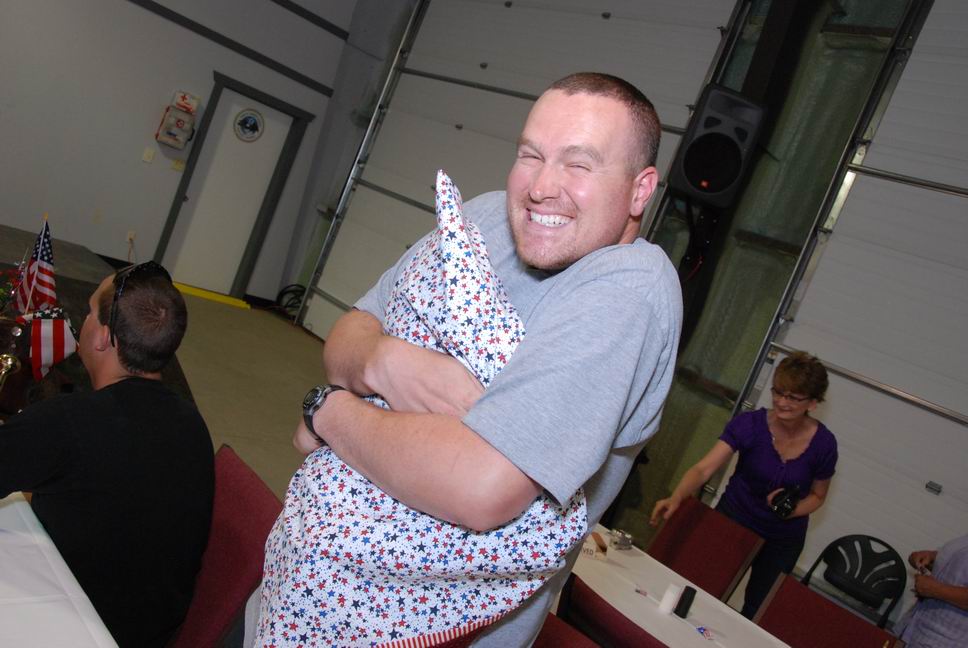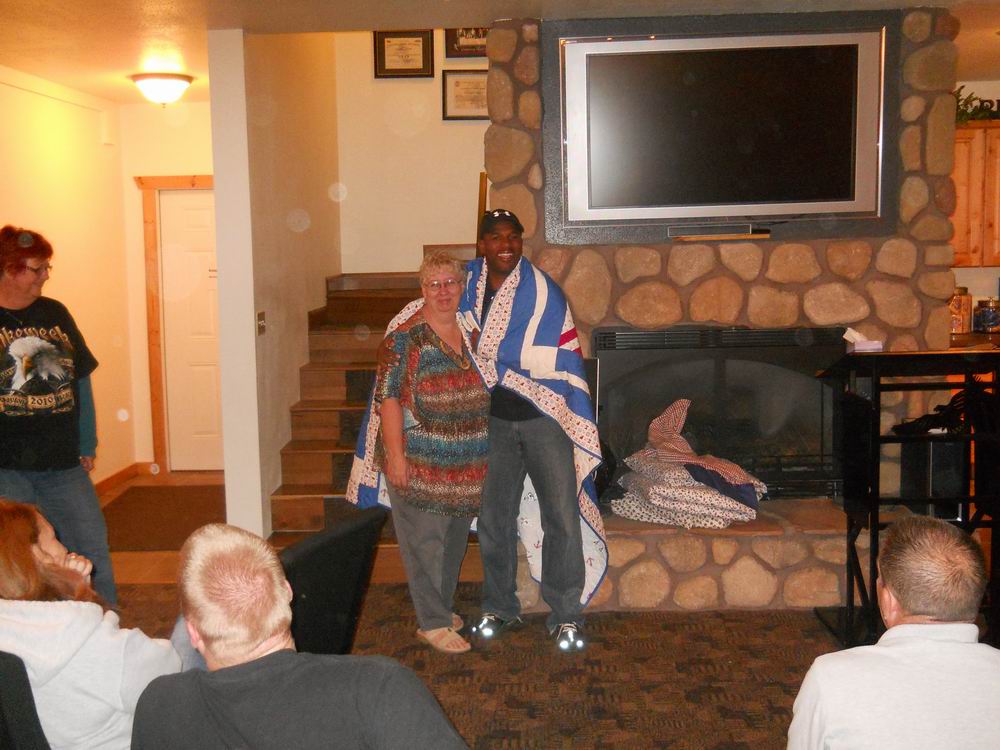 3-12-13

We had an email yesterday that we'd like to share with you:



My name is Kattie

[not a spelling error] and I am from MN. I am involved with a group of ladies who make quilts for wounded warriors. We have been at this for about 7 years. We call ourselves Minnesota Loving Hands. We sew, pray, and eat every Tuesday. We have been sending our quilts to a lady and she called to tell us that they have too many quilts right now. We really don't want to slow down on making them so I am looking for another place to send our quilts to.
Questions:
Are you accepting quilts now?
Can they be tied quilts or do they have to be quilted?
Does it have to be 100% cotton?
We usually make the quilts 50x60. We had been told that this is a good wheelchair size. Is it okay to still send them if we make them this size?
We also add a pocket to the top inside and put a letter in it. I hope this is okay also. We sometimes get letters back from the soldiers so it is kind of fun to hear back from them.

To answer her questions - and for you, too, dear reader:
~ We're ALWAYS accepting quilts, and matching standard-size pillowcases for the bed-size quilts if you can do that.
~ They may be quilted or tied - the recipients don't care, and few probably even realize there's a difference. To them, it's the thought and the love that count.
~ Most traditional-type quilts today are made of 100% cotton material, but all-polyester quilts are just as appealing, and perhaps hypoallergenic as well. It's not that crucial to have all the same material in a quilt, either. We've seen quilts made of silk, lace, velvet, flannel, corduroy, denim, even ladies' fancy little antique handkerchiefs! - you name it! Old-time "crazy quilts" were made of bits of everything imaginable, then embellished with fancy hand embroidery around each piece! As was stated above, even the colors don't matter a whole lot - we get a lot in red-white-&- blue, but the pictures show we've had others in "many-colors" as well. Again, it's the thought, the effort and the love that went into it which thrill these dear people so much and give them encouragement beyond measure.
~ The 50x60 size is fine, as are larger sizes, like a twin-bed size, or double. The attendees at Eagles Summit Ranch are typically young people with prostheses, although some are emotionally scarred rather than physically - very, very few are in wheelchairs. They are fighting to show the world that they are fighters and survivors, who can ride horses, climb mountains, and still outperform a lot of the people they meet on the street and on the job. ESR sometimes does a counseling session for couples, too, and we like to give them larger quilts for at least a double bed, with one quilt given to each couple. (Click here for a great page full of Quilt Size Reference Charts and other charts, by Connie Dean of Flying Geese Quilt Guild, Inc. in Harford County, MD.) For those wishing to donate the 50x60 quilts, we also donate such 'comfort quilts' to other groups who care for children and the elderly, so they won't be left unused!
~ Adding a letter in a pocket is a GREAT idea, and so very thoughtful, since it gives the recipient a chance to say Thank you for all your hard work, dedication and love. We at FlicKennel Dachshunds thank you, too!

These next photos are from the April 19, 2013 ESR graduation, featuring the lovely quilts sent by the lovely ladies of Minnesota Loving Hands! Thank you SO MUCH, ladies! You made these graduates VERY HAPPY.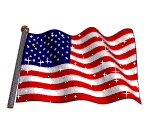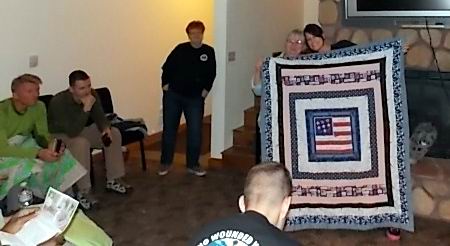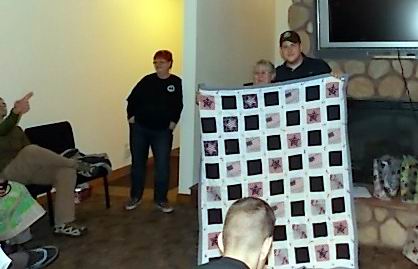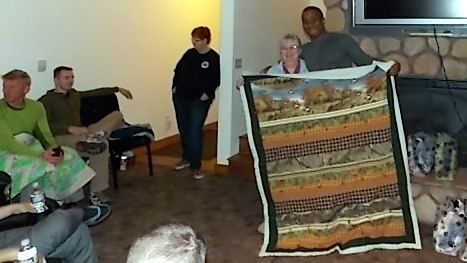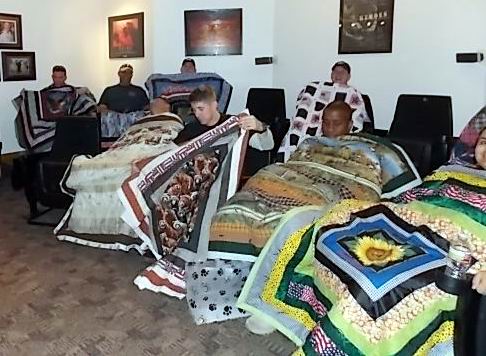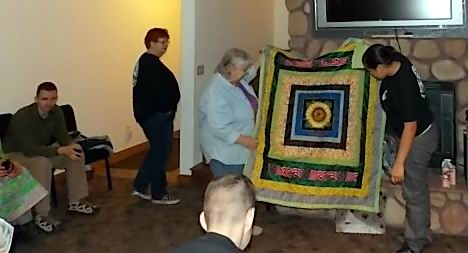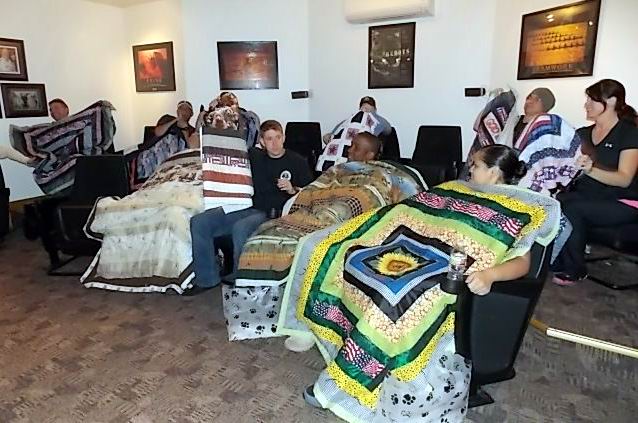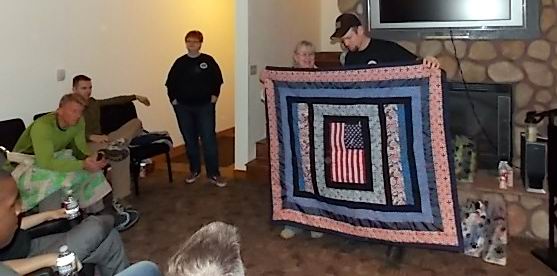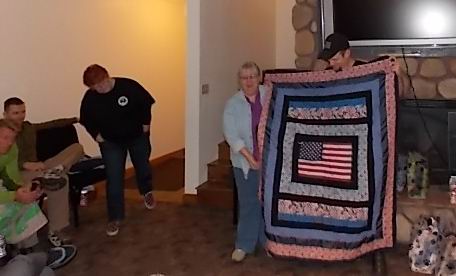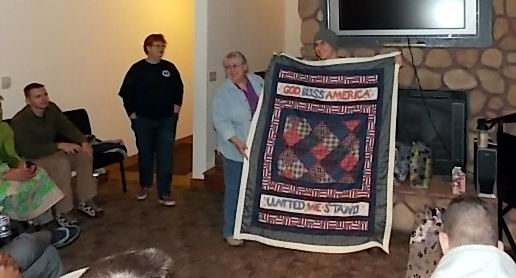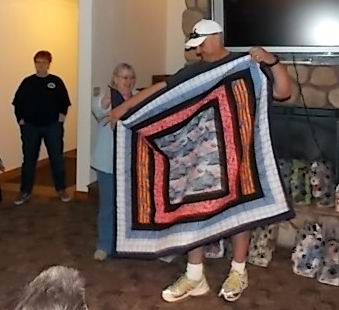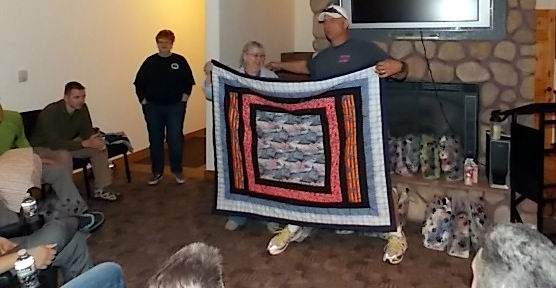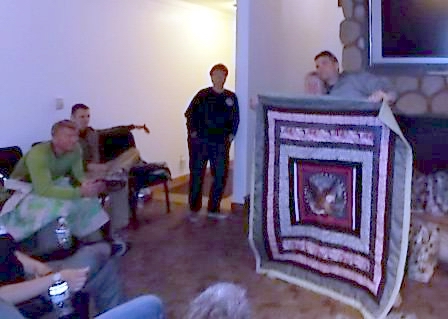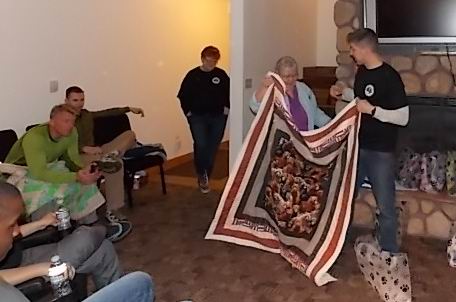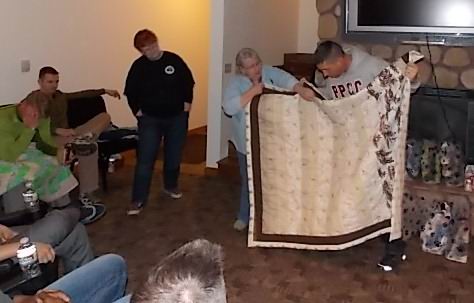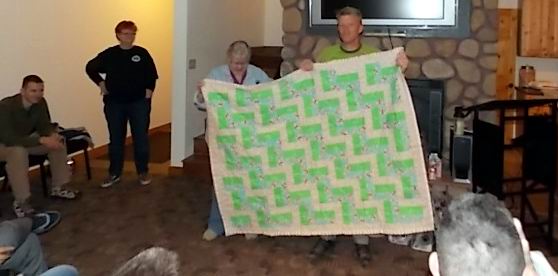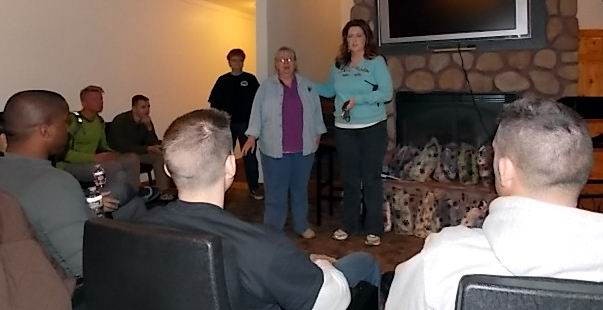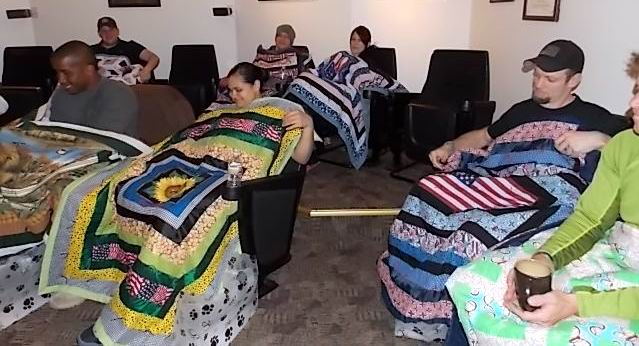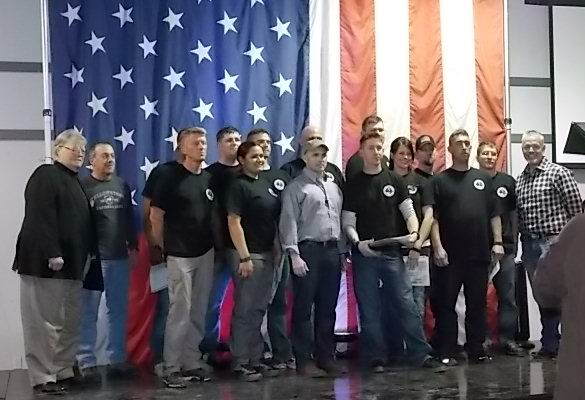 From all of the staff at Eagles Summit Ranch, and at FlicKennel Dachshunds, quilters - we salute you! We salute ALL the quilters across the nation who have joined this mission of showing gratitude, support, warmth and love to our returning warriors and their spouses and families. They appreciate it more than they can say.

By the way, the man at the far left is Dave Roever, profoundly-injured Vietnam veteran, motivational speaker and founder of Eagles Summit Ranch. ​​

WHAT DO YOU KNOW - THEY'RE A PERFECT FIT!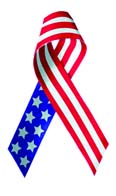 OFF THE SUBJECT A LITTLE

, but not completely, there is a group of 'veteran' comedians, called Comedy Warriors. These are five Wounded Warriors who are helping heal themselves and others through stand-up comedy, and they're producing and promoting a documentary film about it.

Their

SYNOPSIS:

Comedy Warriors: Healing Through Humor

is a documentary film featuring five severely wounded service members – four men and one woman – from the Iraq/Afghanistan conflicts, with injuries ranging from burns to multiple amputations. They were selected from numerous submissions to embark on an exciting new mission: stand-up comedy. With help from their own individual comedy writer mentors, and coaching from A-List comedians like Zach Galifianakis (The Hangover), Bob Saget (Full House), B.J. Novak (The Office), and Lewis Black (Lewis Black's Root of All Evil), they were guided in creating their own personal stand-up routines, and fine-tuned until ready to perform at LA's top comedy clubs. You get to know each of the Comedy Warriors intimately, as we visit their hometowns and meet their families. Each warrior has their own poignant story to share as it becomes clear how vital humor has been in their rehabilitation process. You witness how their sense of humor and learning stand-up, gives them each a new kind of courage, and you see that by sharing their stories and laughing about their struggles with the audience, the emotional pain is lifted. This film proves to be truly inspirational. The Comedy Warriors learn to disarm the stares and their struggles with humor, making both themselves and others more comfortable. The theme of triumph over obstacles prevails throughout this film, as the Comedy Warriors confess their darkest moments, and then embrace the power of their physical circumstances, creating joy and laughter in their lives.
​


Support This Project:




Comedy Warriors: Healing Through Humor

is a sponsored project of Fractured Atlas, a non-profit arts service organization.

Contributions for the purposes of

Comedy Warriors: Healing Through Humor

must be made payable to Fractured Atlas and are tax-deductible to the extent permitted by law.

If you are interested in making a charitable contribution to help make the dream of this therapeutic full-length documentary a reality, please click the

Contribute

link.


















​​​​​​​​​​​​​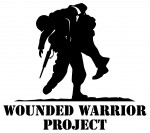 CONTRIBUTE TO THIS PROJECT
​
(Donations go straight to the project, not to Flickennel.)


​​
Supported by:​​
Click the Play arrow below to watch the trailer!