Winners Circle

At Flickennel Dachshunds, our primary goal is to produce purebred dachshunds that will make wonderful lifelong companions and loving family members for anyone who adopts them, but also of such outstanding quality that they would be able to take their proper place in the Winner's Circle at the
best dog shows in the world. The "Breed Standard" is the yardstick against which we measure the dogs in our breeding program, and while not every puppy we make is "perfect" by that standard for coat and
conformation, enough are that we have had the honor and privilege of showing some of our best, with the results shown in the picture above --- and those aren't all the ribbons they won!
On this page we are proud to be able to showcase a few winning Flickennel Dachshunds of the past, and some leaving memorable tracks in the show-rings today. Some we raised here, and some are descendants of our dogs, with the blood of past champions coursing through their veins while making their own strides toward becoming champions themselves.
If you are interested in showing dachshunds and want a certain type, we can steer you toward the finest parents we have, so we can work toward creating the show-quality pup in the exact color, coat and pattern you desire.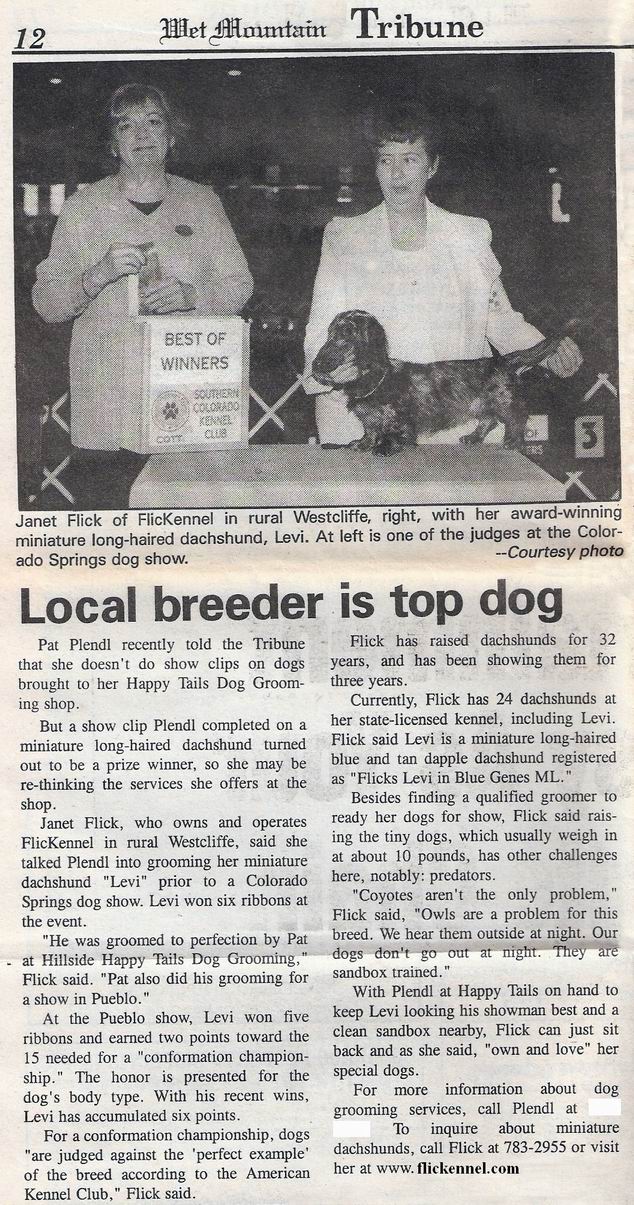 Flicks Levi in Blue Genes ML "Levi"

Flicks Spark Spangled Banner ML

"Sparky"

Sparky won his puppy classes at his first Colorado Springs dog show. He was shown by our friend and fellow dachshund breeder, Susie Gillings.

"Sophia"

Sophia (right), daughter of Flicks Marvelous Miracle Delight ML & UKC CH Doxievilles Loverboy Romeo MLC, with her sire (left).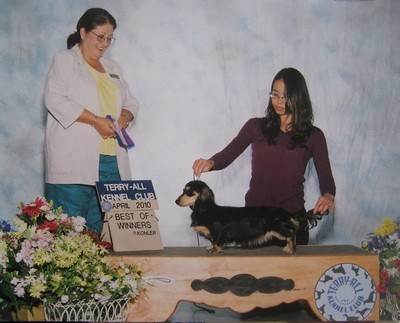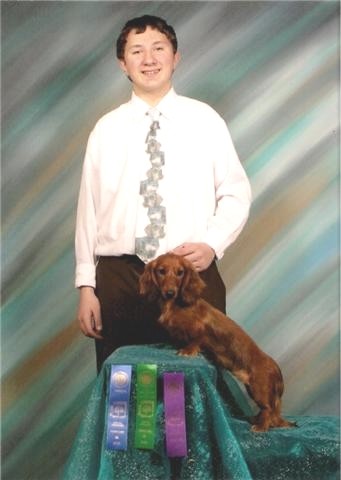 Ruby's first win. She was a 2009 daughter of Flicks McSugar Baby ML (below) &
UKC CH Doxieville's Loverboy Romeo ML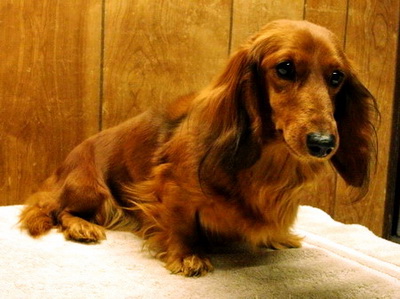 Flicks Marvelous Miracle Delight ML, Sophia's mother.

Sophia's first show & win!
Owned & shown by Susie Gillings.

Romeo's win at the Roaring Fork Kennel Club show, owned & shown by Susie Gillings.