We get requests from people who want to buy a young intact dog, especially from our Cash bloodline, for their own breeding program, or as a partially-grown companion. So, we have decided to share some of our wonderful young-adult dogs with folks who are looking for breeding-age dachshunds, or close to it. These dogs will come with full AKC registration and AVID microchips, because we were going to keep them, but for whatever reason, they no longer fit into our breeding program. Some have grown too big, since we major in miniatures, and others, especially females, may be too small to breed safely. Or, we may have multiple identical dogs - we don't need three or more of the same thing! They're great dogs, but "enough is enough!" If you merely want a companion that's past the bitty-baby phase but not yet "middle-aged," please consider buying one of these and take him or her to your vet to be neutered. You'll still have the AKC papers (we keep the papers on our "Rocking-chair Retirees"), and the knowledge that you have one of our "cream of the crop" dogs, old enough to see more of its adult form and coat.
BLOSSOM, born 2-27-22 to Cachet & Cupid, is a sweet-natured shaded-red longhair. She and her masked, red-sable sister, DIXIE, are a little smaller than we care to breed, but they could be mated with similarly small males. Regarding their parents, Cachet is a blue & tan reverse-dapple LH out of Jackie (smooth red) & Bullet (blue & tan LH son of Cash, our King of the Kennel). Cupid is a SM masked red brindle who carries cream, longhair, and piebald; his parents were Rhonda (red SM) & Rusty (red brindle LH who carried cream and piebald). Depending on the male's ancestry, Blossom and Dixie could produce red or cream, black or blue, brindle, piebald, and Dixie would donate her masking gene. Each girl's price is set at $1700.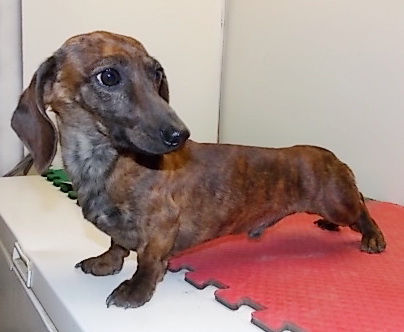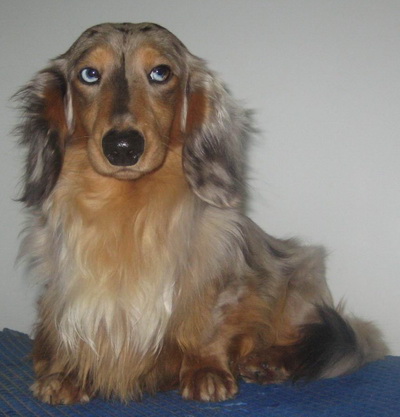 Blossom weighs 9.8 lbs.
Dixie weighs 7.0 lbs.
We're only 8 months old, so our adult coats haven't grown-out yet. We are both longhairs!