We get requests from people who want to buy a young intact dog, especially from our Cash bloodline, for their own breeding program, or as a partially-grown companion. So, we have decided to share some of our wonderful young-adult dogs with folks who are looking for breeding-age dachshunds, or close to it. These dogs will come with full AKC registration and AVID microchips, because we were going to keep them, but for whatever reason, they no longer fit into our breeding program. Some have grown too big, since we major in miniatures, and others, especially females, may be too small to breed safely. Or, we may have multiple identical dogs - we don't need three or more of the same thing! They're great dogs, but "enough is enough!" We also find a very few "duds" who don't prove breedable, either male or female. If you merely want a companion that's past the bitty-baby phase but not yet "middle-aged," please consider buying one of these and take him or her to your vet to be neutered. You'll still have the AKC papers on breedable dogs (we keep the papers on our "Rocking-chair Retirees"), and the knowledge that you have one of our "cream of the crop" dogs, old enough to see more of its adult form and coat.

SWAGGER, born 6-29-19 to Crystal and Smurf, is a stunningly handsome STANDARD-SIZED blue & tan reverse-dapple piebald longhair who does NOT carry smooth, as his long hair requires the two coat genes to be homozygous (both the same). Blue-eyed blue & tan dapple Crystal is a great-granddaughter of our great Cash. Smurf's piebald parents were Tally (black & tan) and Boston (chocolate & cream). We would very happily keep Swagger, but we don't have enough BIG females who aren't related to him, and he's too big to put with our smaller unrelated girls. This is one guy who deserves to sire LOTS of pups as beautiful as he is. He already has full AKC registration, is microchipped, and would love to be a father - on a regular basis! He's worth every penny of his asking price of $2000, and more!

Our

Spring Sale

is here - save

20% off

the list price of your Young Adult! Use its button to pay the deposit, and bring the balance in cash when you come for your pup - MINUS 20%

o

f

the

total price!

Sale ends April 30, so don't delay!
These are Swagger's parents - they are NOT FOR SALE.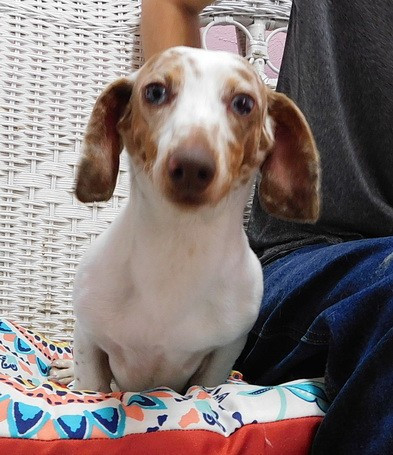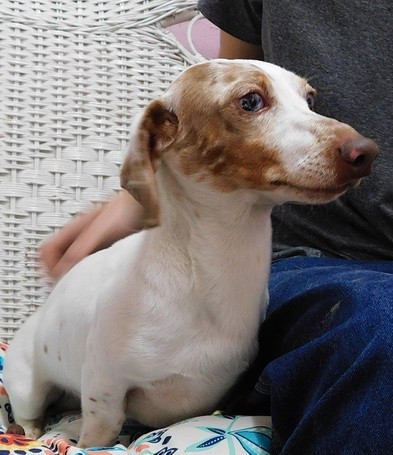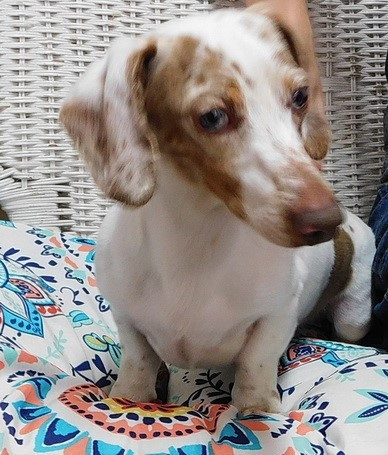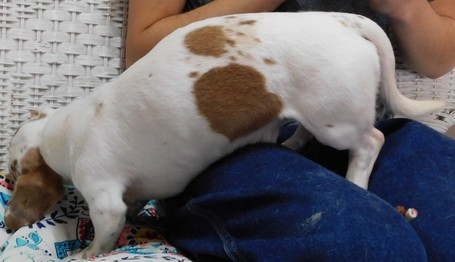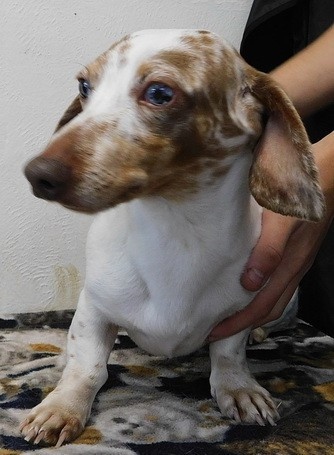 CABOOSE, born 1-20-20 to Boysenberry & Tanner, is a charming blue-eyed red dapple-piebald. We had planned to keep him for breeding purposes, but he hasn't produced any offspring, putting him in our Scratch & Dent category, without AKC registration papers or discounts, because his price is already discounted. So, while he's not being sold as a breeder, he is a young adult with a lot of lifetime yet to live as only a doxie can - moxie style! His adoption fee is only $1500 - he's microchipped, current on shots, crate-trained, and a sweetie looking for his furever people.
Didn't find what you were looking for?